A recent study shows that advances in breast health technology may help overcome the number one reason patients avoid a mammogram -- the fear of results and anxiety from the pain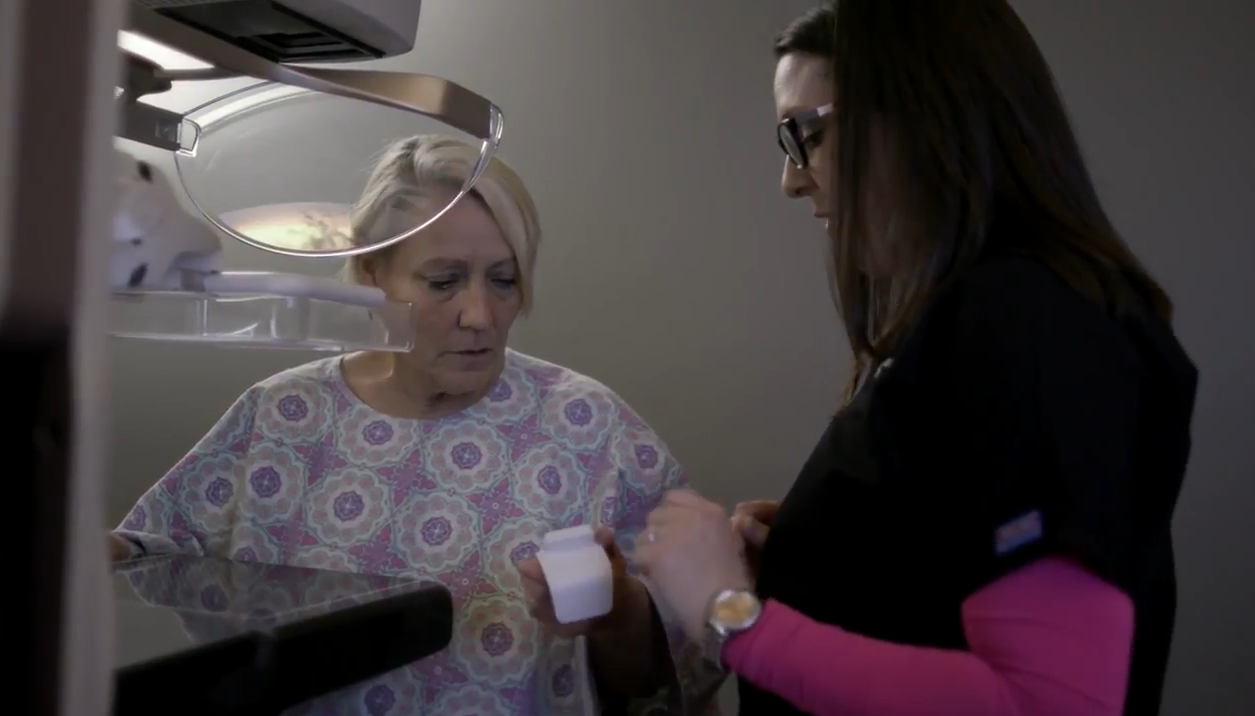 When it comes to fighting breast cancer, mammograms are often considered the first line of defense. Many medical association guidelines, such as the American College of Radiology, recommend that women between 40 and 50 years of age start receiving breast cancer screenings on an annual basis.
While significant advancements have been made in breast imaging technology, one aspect of mammography has stayed the same: the need for breast compression. And for many women, the number one reason they don´t schedule a mammogram is because of the fear and anxiety from the potential result and exam discomfort[1]. The screening compliance rate has been shown to be lower in women who experienced pain during their mammogram compared to those who did not[2]. A choice not to get a mammogram can delay a breast cancer diagnosis and impact a patient's long-term prognosis, as finding breast cancer early reduces a woman's risk of dying from the disease by 25-30 percent or more[3].
"I stayed in my vehicle for about five minutes before walking into the building because I dreaded coming in to use the machine," said Peggy, a mammography screening patient at Imaging for Women, an imaging center in Kansas City, MO.
That's why a team of female engineers and designers came together to design new mammography technology they would want to be scanned on using their unique insights as patients. Senographe Pristina* features the option for patients to use an industry-first patient-assisted compression remote control device, called Pristina Dueta*, to enable the patient, under the guidance of a technologist, to set the compression that feels right for her during her mammogram.
A recent study on Senographe Pristina conducted by clinicians at Imaging for Women evaluated the impact of patient-assisted compression on image quality, compression force, workflow and patient satisfaction during a mammogram.
The site compared the compression force applied to each patient who used Dueta in 2018 with the force in the same patient when they underwent traditional mammography in 2017, before Dueta was implemented.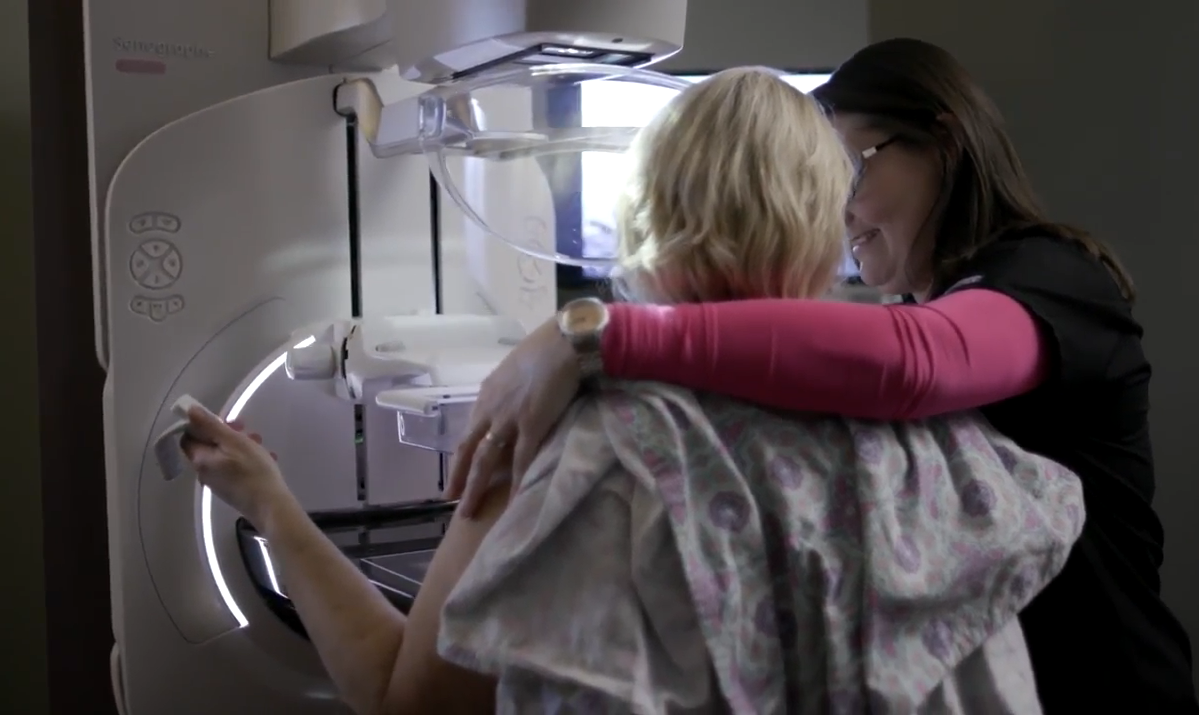 "By allowing patients more control in the compression, we are seeing that 65 percent of the patients who use Dueta are giving us greater compression than in their previous exam," said Dr. Troy D. Voeltz, M.D, a radiologist at the site.
The technologist explained to each patient the benefits of Dueta and provided the instructions on how to use it. The technologist then positioned the breast and set initial compression for the patient. The patient finalized compression with Dueta.
The study included 1,814 patients, and 1,148 of those patients achieved higher compression than the previous year. The change in workflow had no negative impact on productivity as Dueta does not add extra time to the exam.
"[The technologist] said that typically you can handle more of the compression if you're doing it yourself," said Debbi, a patient at Imaging for Women. "I found that to be true, absolutely."
When Brenda, another patient at Imaging for Women, started getting mammograms, she said they were painful. But using the patient-assisted compression device was different for her. "I knew how tight it was going to get instead of waiting to see how tight it was going to get," she said. "The technologist said I compressed further than they did last year. I went to a 12 and only did a seven last year."
Indeed, Peggy said she knew what to expect using Dueta. "I just pushed the remote and it made me feel good," she said. "At least now, women have more control of the testing, whereas in the past you never had that control. It restored my faith. And I will come back."
Higher compression during mammography can also lead to better image quality by reducing tissue superposition, X-ray scatter, radiation dose and patient motion[4]. Staff members at Imaging for Women saw that patient-assisted compression had a positive impact on image quality.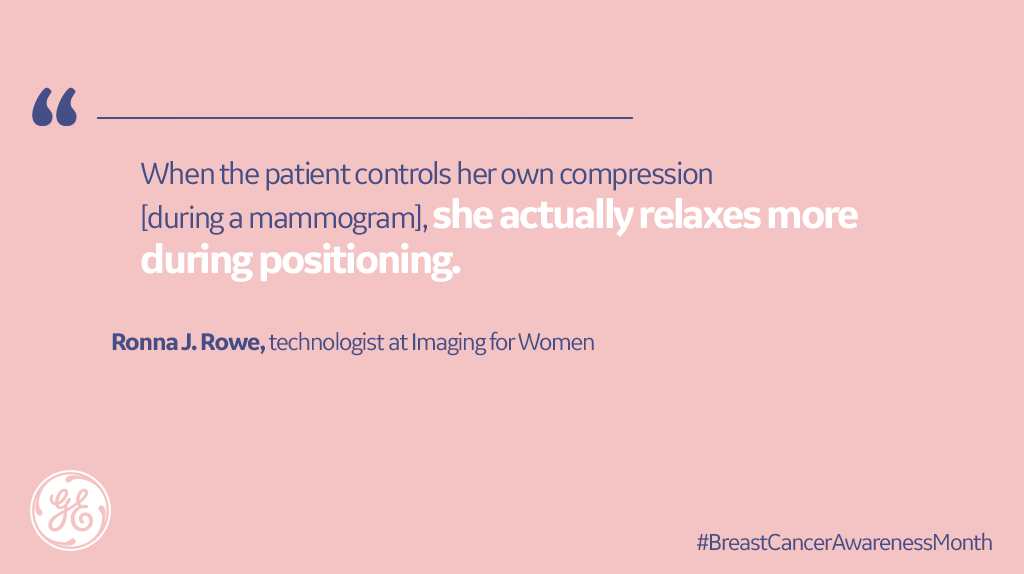 "When the patient controls her own compression, she actually relaxes more during positioning," said Ronna J. Rowe, a technologist at Imaging for Women. "This allows me to pull even more tissue into the image. This is an added bonus to using Dueta."
Dr. Voeltz agrees. "If a patient fears the compression, it may hinder her return on an annual basis," he said. "By putting the compression in the hands of the patient we are seeing greater results, and the patients are telling us they will return annually for their exams."
Senographe Pristina and Pristina Dueta are not available in all geographies. Consult your doctor for more information.
*Senographe Pristina and Pristina Dueta are trademarks of General Electric Company.
[1] Aro, A., de Koning, H., Absetz, P., Schreck, M. (2001). Two distinct groups of non-attendees in an organized screening mammography program. Breast Cancer Research and Treatment. 70(2):145-153.
[2] Whelehan, P., Evans, A., Wells. M., MacGillivray, S. (2013). The effect of mammography pain on repeat participation in breast cancer screening: A systematic review. The Breast 22 (2013). pp 389-394 Available at: http://cochranelibrary- https://ac.els-cdn.com/S096097761300057X/1-s2.0-S096097761300057X-main.pdf?_tid=a5a4a15c-fd0d-4cf2-97f7-c96e4931e0cf&acdnat=1529309059_768ca33c4b87f642274ada9fcae343d1 (Accessed on 18 June, 2018)
[3] http://www.breastcancer.org/symptoms/testing/types/mammograms/benefits_risks
[4] Holland, K., Sechopoulos, I., Mann, R.M., den Heeten, G.J., van Gils, C.H., Karssemeijer, N. (2017) Influence of breast compression pressure on the performance of population-based mammography screening. Breast Cancer Research 19:126 Available at: https://www.ncbi.nlm.nih.gov/pmc/articles/ PMC5706300/pdf/13058_2017_Article_917.pdf (Accessed on 18 June, 2018)