With the help of this doctor and ultrasound technology, this visually impaired family was able to 'meet' their son before he was born.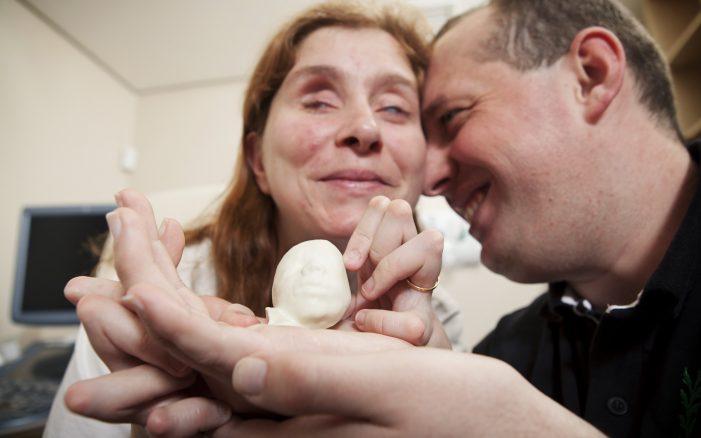 Without the gift of sight, pregnancy can be a very different experience. Ana Paula Silveira and her husband, Alvaro Zermiani, are both visually impaired, and thought they would have to guess what their baby would look like. However, with GE Healthcare's ultrasound technology and 3D printing, they got the opportunity not only to monitor they baby's development and screen for any potential problems, but also to meet their son, Davi Lucas, before he was born.
Dr. Heron Werner, a Brazilian obstetrician and gynecologist, is the man behind the idea. In addition to supporting Ana in her antenatal routine to provide a more accurate diagnosis of the fetus with ultrasound, he also helped this mother-to-be to 'see' her baby using a 3D printed ultrasound image she could touch and feel. "There was a 3D printing project going on in 2007, where CT (Computed Tomography) was being used to image fossils and mummies at the National Museum of Brazil," he recalled. "I thought, 'why not use this technology to print fetuses?"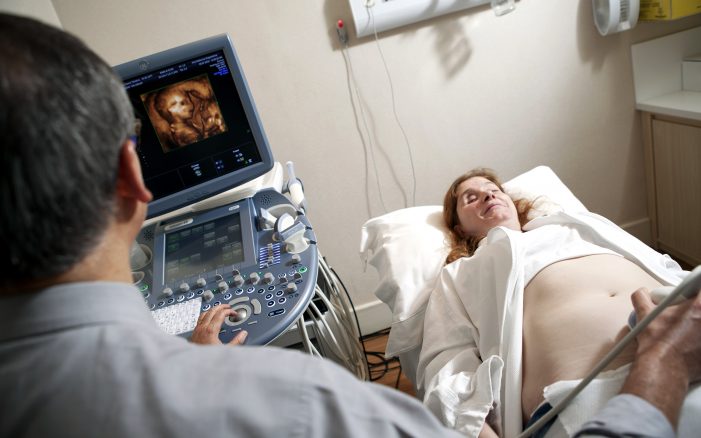 Transposing the technique from CT to ultrasound was a challenge. CT, which is not used for routine baby scans, uses x-ray beams to generate images. Ultrasound images are generated from sound waves. After a year of work, Dr. Werner and his team succeeded in creating 3D printed models from ultrasound images.
"Now I do an ultrasound of the baby, then use the data from the exam to make a file that's compatible with 3D printers," The main purpose of Dr. Werner's work is to take care of expecting moms and monitor the baby's development using ultrasound. But he also realized that doing the 3D printing from the exam could be a great way to help blind parents to 'see' their baby before birth and have the same life-changing experience all parents have when seeing their new child for the first time.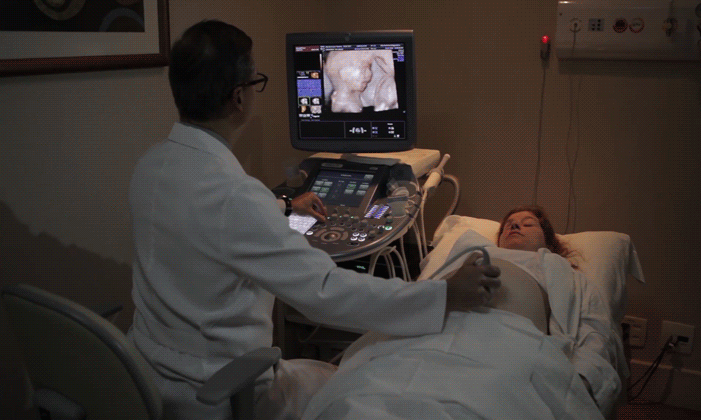 The first step was to capture the images using GE Healthcare's Voluson E8. According to Dr. Werner, "the printing process, from capturing the images to the development of the 3D models, depends on the clarity of the exams, which can be obtained only with high quality imaging equipment." The basic principle of 3D printing is that a printer nozzle lays down several fine sedimentary layers of material (in this case, plaster) to build a 3D model indistinguishable from something made on a factory production line. Medical applications using this technology are fast emerging: everything from legs to hearts to ears are being printed. The medical and dental market for such models and implants is expected to expand by a whopping 365% by 2025, according to IDTechEx analysts.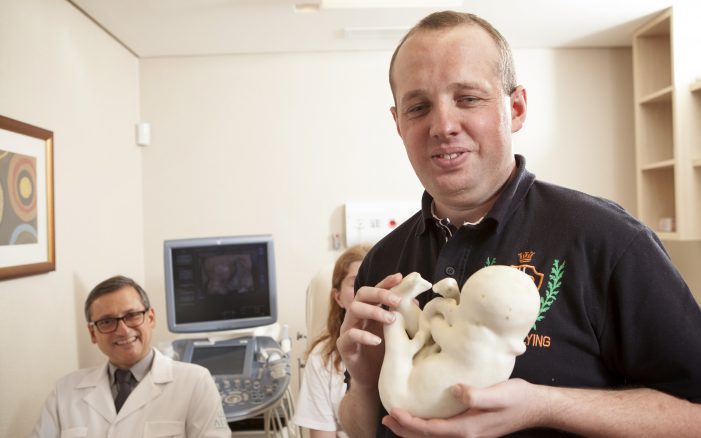 GE Healthcare's Voluson E10 is the first ultrasound system in the OB/GYN field to have a 3D print capability directly built into the system. With this, doctors can help parents better understand defects such as cleft lip, abnormal extremities, or abdominal wall defects. In some cases, 3D printing can enhance discussions around surgical planning and for education purposes.
"A while ago, there was a TV interview with Dr. Heron about his work," remembered Ana. "I wasn't pregnant yet at the time, but my husband and I kept the idea in mind for when it happened! One year later when we found out we were pregnant, we managed to get in touch with Dr. Werner who agreed to follow me through my pregnancy stages."
Describing the feeling of touching her baby's face before he was born, she said, "It was so thrilling. We already had an idea of how our baby would look like, whose nose he would have, whose ears he would have, and so on. Almost being able to hold him for the first time at twelve weeks was indescribable. Davi's mouth, his nose, his ears, all felt so real."
"For people like us, who are visually impaired, this was a real gift," said Alvaro. "Holding the plaster cast of Davi's face, feeling his features and how similar he was to Ana and me… I'll keep that experience for life."