76% of the mission control staff who work inside GE Healthcare's first command center that coordinates care across a multi-hospital system are women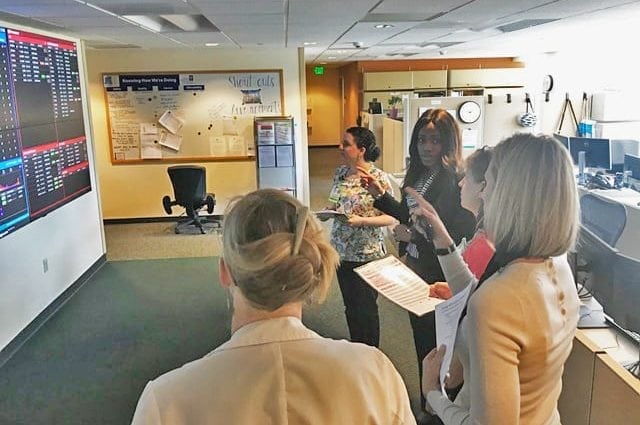 From foreground to background: administrator on duty, bed flow manager, director of the emergency department and transfer center, Mmekon Ekon, Senior Consultant, GE Healthcare Partners and physician on duty (POD)
Elon Musk recently announced plans to create high-speed driverless cars to transport airline passengers in tunnels from downtown Chicago to O'Hare International airport. If this takes off, the transformative technology behind the project will join the likes of other advancements that have forever changed the airline industry including, global positioning software (GPS) that helps air traffic controllers safely reroute planes and real-time data processing tools that provide passengers with minute-by-minute updates on flight information.
Although the airline industry has managed to safely and efficiently move large volumes of planes and passengers around some of the world's busiest airports, the healthcare industry has struggled to do the same for hospital patients, until now.
Mmekom Ekon may not be a Musk-like billionaire tech entrepreneur but as a biomedical and systems engineer, she is transforming how patients access and move through Oregon Health & Science University Hospital (OHSU), a 576-bed teaching hospital and Level I trauma center in Portland, Oregon.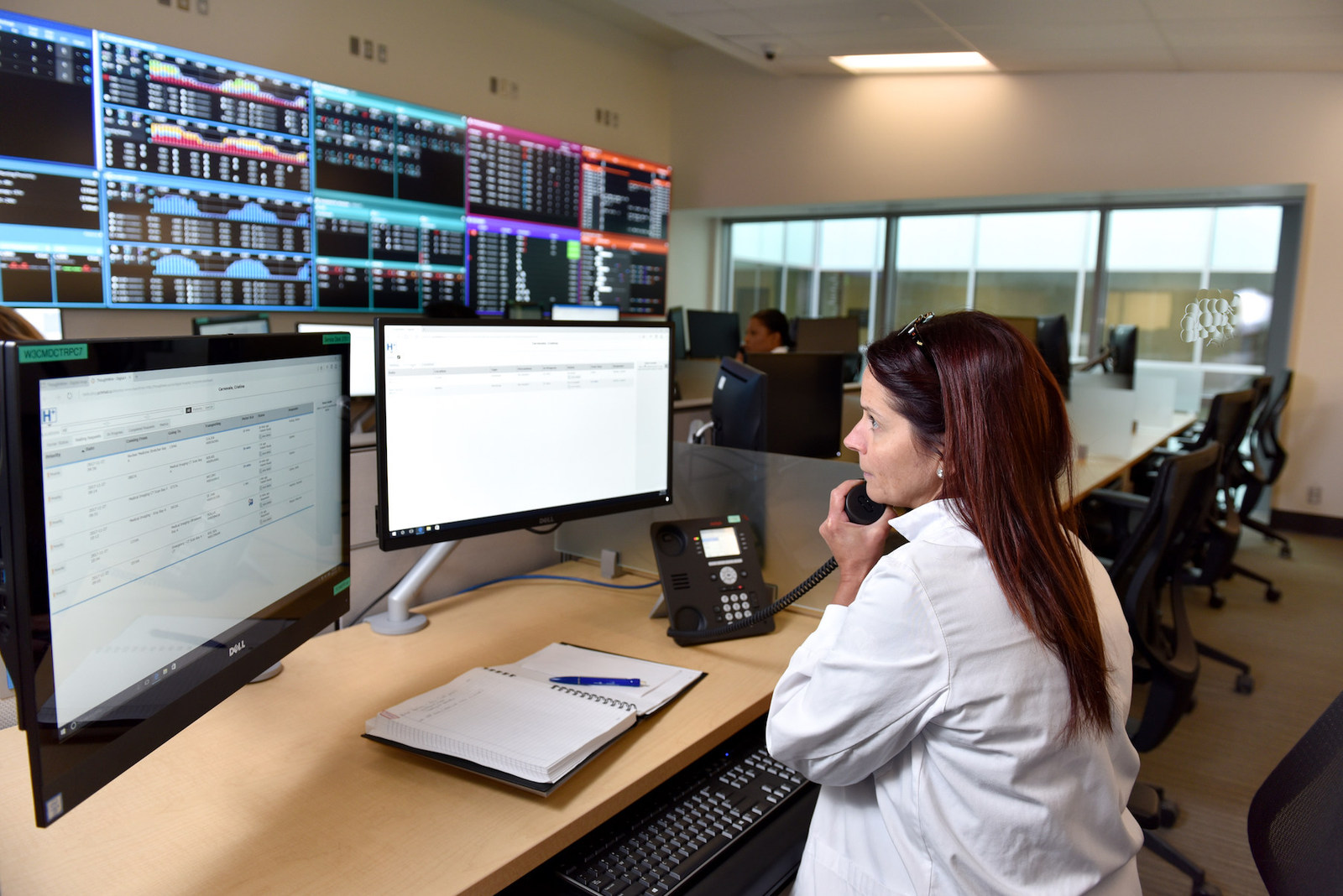 Mission Controller inside Humber River Hospital's NASA-style command center
"I find it hard to explain what I do but since people fly a lot, I create an analogy of an airport to the hospital," said Ekon, Senior Consultant, GE Healthcare Partners. "If you think of an air traffic controller that needs insights or situational awareness around the hospital - when should a patient land, which flight should come now. Now imagine someone who has a medical emergency. An air traffic controller would reprioritize that plane landing before others. If you think of assigning planes to gates, and air traffic controllers feeding information to the gate, saying 'you can depart now', or 'you need to wait,' it's similar to the healthcare industry and what mission controllers are doing inside command centers."
Last year, OHSU was the first hospital to open a GE Healthcare command center that uses AI and predictive analytics to coordinate care between an academic medical center and two affiliated community hospitals. Since then, OHSU have accepted more transfer patients than ever before.
"The year before we opened the command center, we declined over 500 transfer patients from referring hospitals, said Dr. James Heilman, Chief Medical Transfer Officer, OHSU. "We are already seeing a major improvement in patient transfers to OHSU and the two neighboring community hospitals. Further, many of the patients who accepted to the community hospitals were closer to home which is more convenient for their families."
Inside OHSU's AI-powered command center, 76-perecent of the staff or "mission controllers" are women mostly with nursing backgrounds ranging from patient placement to bed management to transfer coordination. Taking it to an even higher level of expertise, Mmkeom created a new role unique to OHSU's command center called the physician on duty (POD) which is 86-percent occupied by women. PODs are highly skilled medical professionals such as surgeons or hospitalists who expedite, manage and resolve the most complex transfers cases.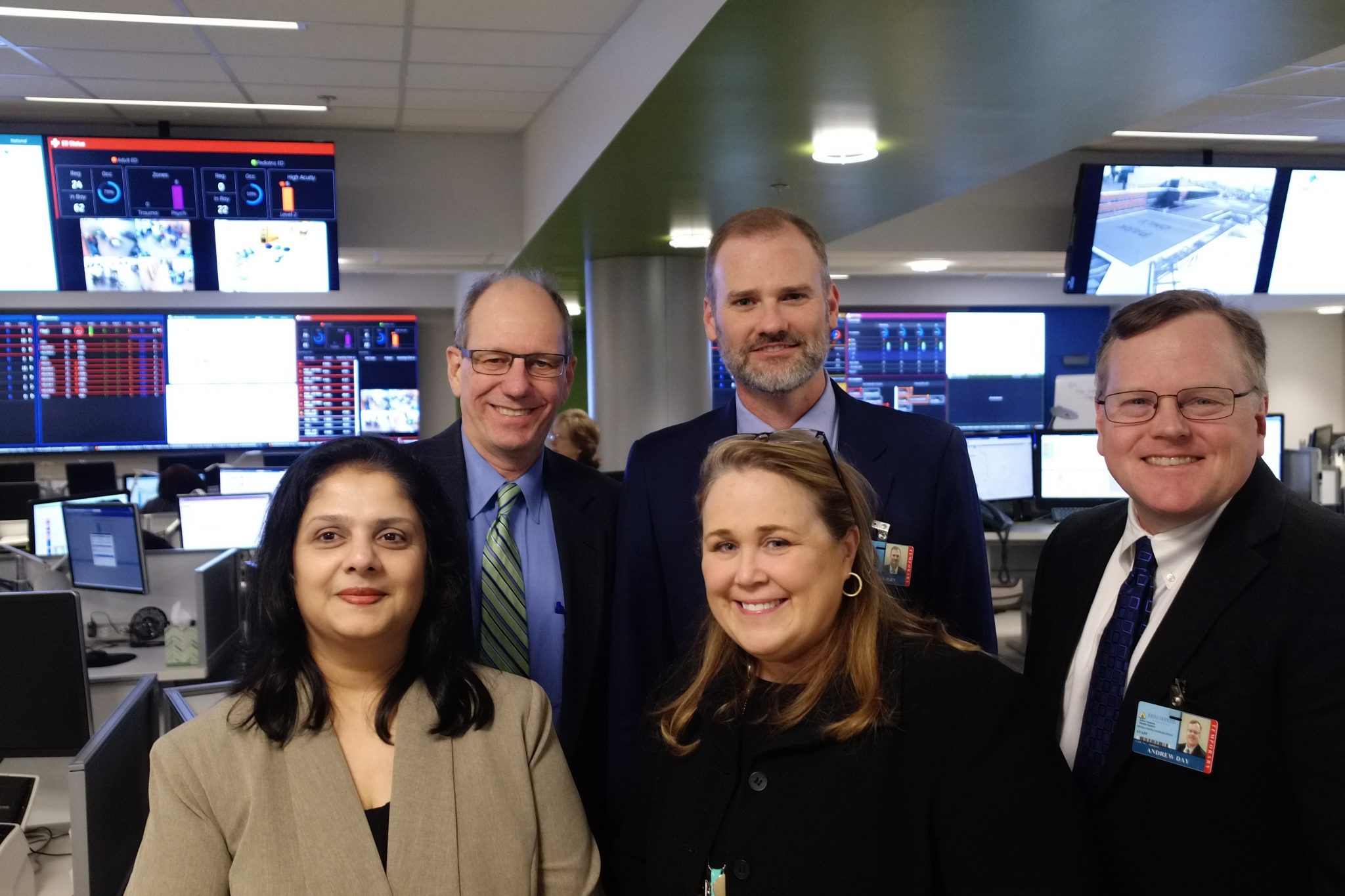 Front row left to right: Sreelatha Surendranathan, Senior Engineering Lead, Kathy Martin, Senior Solutions Director, and Andy Day, Principal, Command Center Partnerships. Back row left to right: Jim Livas, Senior Program Manager and Jeff Terry, Command Centers, CEO
"There are patient examples in which PODs were able to identify a condition of a patient at an external hospital that was not otherwise seen, they escalated it, and had the patients come to OHSU as quick as possible," said Ekon. "When I see something like that, it gives me a sense of achievement that this is a role that I helped create. When I see the impact of how I'm helping patients get access to the hospital, it's something that keeps me going. It's amazing."
More women than men are at the helm inside all three of GE Healthcare's current NASA-style hospital command centers. As mission controllers, the staff brings a diverse and solid understanding of clinical knowledge, operational workflows, follow through, process rigor and communications. Sreelatha Surendranathan, Senior Engineering Lead for GE Healthcare Partners, leads the team responsible for creating the AI and predictive analytics that are displayed on the Wall of Analytics (WOA) and mobile devices inside GEHC's command centers. She says it doesn't matter what software her team writes, the command center would not exist without the combined expertise and level of insight the whole solution brings. "Engineers don't need to be taught to write code, we need to understand how healthcare works. The women who manage mission control walk us through, here is how a patient comes in from the ambulance, how they are observed, how they interact with the nursing staff, they know hospital operations and clinical workflows inside and out and that is the reason why command centers have people with those strengths."