How a minimally-invasive prostate procedure completely changed one man's quality of life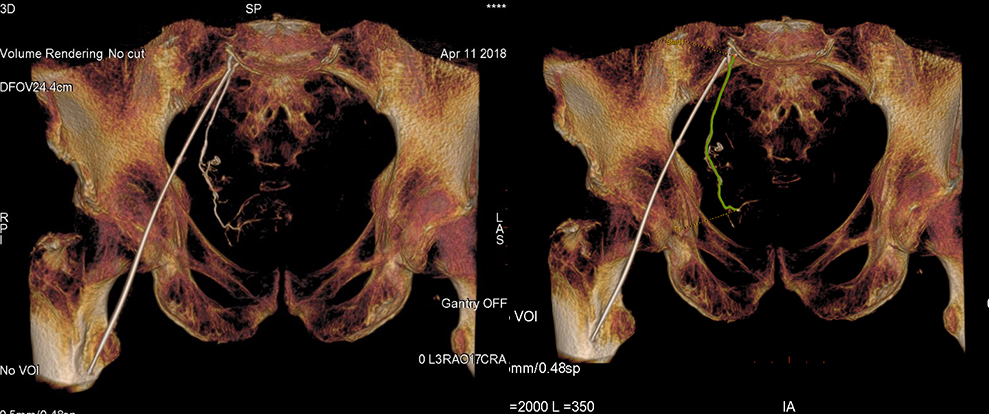 Until last month, Alan Hepford had not slept through the night in four years.
The 72-year-old retired Army Major would wake up 5-8 times every night with an urgent need to urinate. Within the last year, Alan's sleep pattern had become so disruptive that he moved out of the bedroom he shared with Connie, his wife of 47 years, and into a guest room with an attached bathroom. Unable to properly rest, Alan faced constant fatigue and a worsening physical and emotional quality of life.
Alan is not alone. Like 20 million men in the United States1, he suffers from benign prostate hyperplasia (BPH), commonly referred to as an enlarged prostate, which leads to painful symptoms such as a weak urine stream, urgency to urinate, bladder and urinary tract infection and potential kidney damage. Because of BPH, a once mindless act has become overwhelmingly difficult for Alan.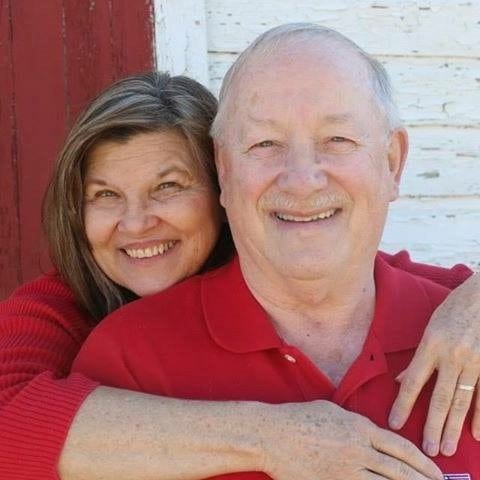 "I was like an old car that never drove past a gas station without filling up," Alan explained. "I wouldn't walk past a restroom without stopping. It was really frustrating because I couldn't run errands or attend events for more than one or two hours at a time."
Over the past four years, Alan has tried various types of treatment, including medication, with marginal success. While many individuals with severe BPH can undergo a prostatectomy or a trans urethral resection of the prostate (TURP) to alleviate symptoms, Alan was ineligible for both invasive procedures due to other health challenges, including diabetes and a pulmonary condition.
But last March, Alan reached a breaking point. In an effort to cut down on trips to the restroom, he reduced his intake of liquids. During a quick trip to the convenience store, he got dizzy and passed out in the parking lot. He was found by a delivery truck driver and rushed to the ER, where doctors determined he had a severe urinary tract infection and needed to have a urinary catheter put in.
"The catheter was incredibly painful," Allan recalled. "I am a heart patient, so I need to walk every day. With a bag hanging around my leg, it was incredibly difficult and uncomfortable to walk around and just the sight of it was upsetting."
Alan knew something had to change, so he turned to his daughter Lisa, an Interventional Radiology Clinical Specialist for GE Healthcare, for a recommendation. As luck would have it, Lisa works alongside Dr. Charles Nutting, a nationally recognized interventional radiologist in Denver, Colorado. Dr. Nutting is one of a growing number of physicians in the United States performing a fairly new procedure called a Prostate Artery Embolization, or PAE.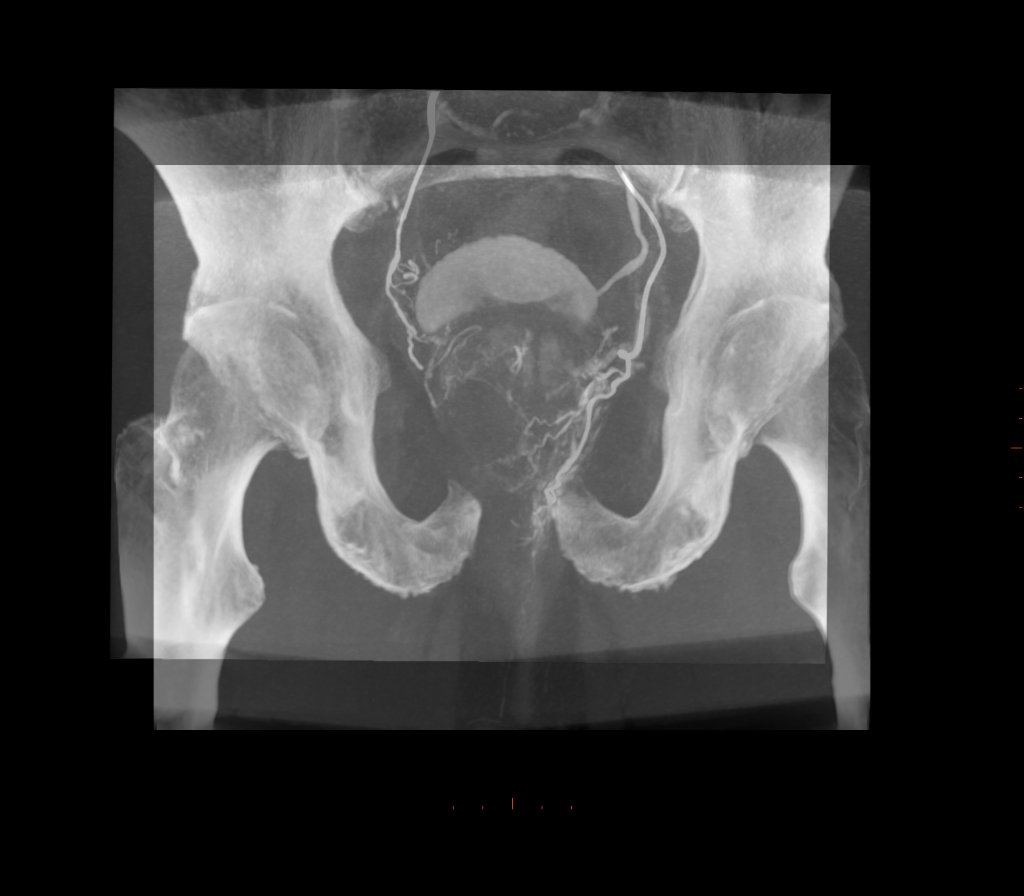 Unlike a prostatectomy or TURP, PAE is minimally-invasive, so the procedure and recovery time can be significantly shorter for the patient. During the procedure Dr. Nutting placed Alan in the angiography suite, made a small incision in his groin and used GE's Discovery IGS 740 to locate the arteries that supply the prostate with blood. This imaging technology provided Dr. Nutting with 3D cone-beam CT images, allowing him to better visualize and catheterize the tiny vessels.
"PAE is one of the more complicated procedures we perform because the prostate's vessels are so tiny and can branch off many different locations." Dr. Nutting explained. "GE's VesselASSIST* software and cone-beam angiography draws a roadmap – similar to a GPS – to the exact arteries that supply the prostate. To find these arteries is challenging, but to catheterize them is another story. While I will go through this mapping in my mind, it's the verification with this software that really improves my confidence."
Once Dr. Nutting identified the two arteries supplying Alan's prostate gland, he maneuvered catheters and injected beads. The beads acted like a dam, blocking off blood supply to the prostate and decreasing the prostate size. After the beads were injected, Dr. Nutting removed the catheters and closed the artery.
The entire procedure took about two hours and Alan was released later that same day. While he will experience the full benefit of the procedure in 3-6 months, Alan has already felt a significant impact on his quality of life.
"This procedure was utterly fantastic and I haven't felt this good in five years!" Alan said. "I can sleep. I can be gone for more than two hours without having to find a restroom. I won't have to use a catheter anymore. I have a better attitude towards life, and I'm pretty sure I'm easier to live with!"
Because of stories like Alan's, Dr. Nutting, who currently performs up to five PAE procedures per week, anticipates a major spike in demand for this minimally invasive procedure in the next few years. Unlike the prostatectomy and TURP, the risk of impotence may be greatly reduced with PAE2.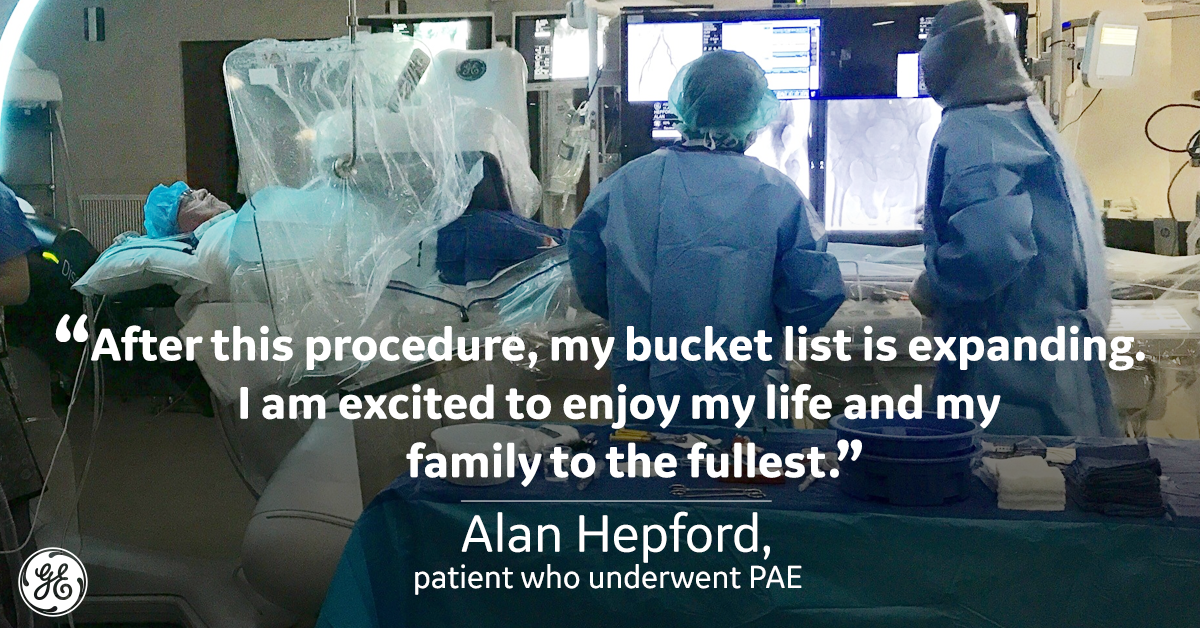 Alan is taking full advantage of this new-found energy and sense of freedom; he just returned from a trip to Charleston and plans to travel to Miami and Hawaii before the end of the year.
"Going through airport security and sitting on a plane used to be a nightmare. After this procedure, my bucket list is expanding. I am excited to enjoy my life and my family to the fullest."
Disclaimer: Dr. Nutting is a paid consultant for GE Healthcare and he was compensated for his participation in this article. The Statements by GE's customers and patients described here are based on results that were achieved in the customer's unique setting. Since there is no "typical" hospital and many variables exist i.e. hospital size, case mix, there can be no guarantee that other customers or patients will achieve the same results.
*Vessel ASSIST solution includes Vision 2, VesselIQ Xpress, Autobone Xpress and requires AW workstation with Volume Viewer, Volume Viewer Innova.
These applications are sold separately.
1 US National Library of Medicine National Institutes of Health. Epidemiology and etiology of benign prostatic hyperplasia and bladder outlet obstruction. Available here.
2 US National Library of Medicine National Institutes of Health. Efficacy and safety of prostate artery embolization on lower urinary tract symptoms related to benign prostatic hyperplasia: a systematic review and meta-analysis. Available here.