CT scans of some "unusual" patients help shed light on ancient mysteries
More often than not, computed tomography (CT) is used to scan living patients in an effort to diagnose disease and inform treatment decisions. However, every so often this modern imaging technology is used to investigate the past and help unlock ancient mysteries.
Here are four ways the same technology used to identify small tumors in the human body was also be used for more unusual needs, from restoring a long-lost painting by a famed Renaissance artist to understanding the life and features of a baby mammoth.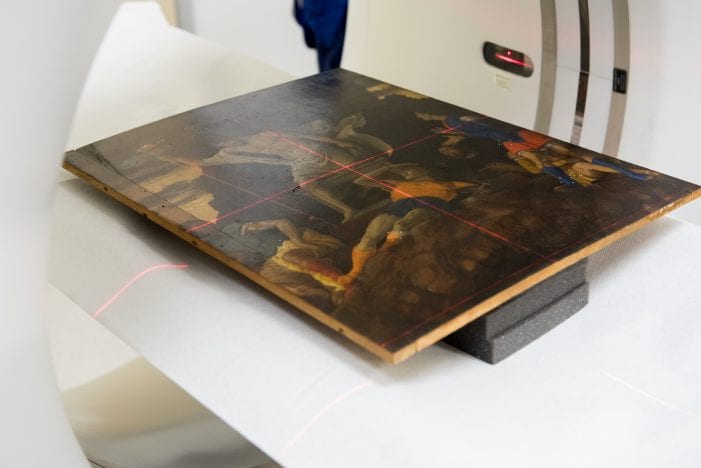 Usually fairly quiet, the hallways of the Humanitas Gavazzeni Radiology Department buzz with excitement and curiosity. Technicians and radiographers wander hoping to see the "extraordinary" patient."We need patients to be very still for imaging exams. It shouldn't be a problem with this one" jokes Enzo Angeli, head of the Diagnostics Imaging Department at Humanitas Gavazzeni in Bergamo, Italy. Last May, Italian museum Accademia Carrara found a 15th century work of art by famed Renaissance artist Andrea Mantegna in its storage room and used CT imaging to help restore the painting."The first objective of the CT exam was to study the state of preservation of the painting for its upcoming restoration. The exam allowed us to divide the painting into countless 0.6 mm slices," explains Enzo Angeli, head of the Diagnostics Imaging Department at Humanitas Gavazzeni in Bergamo, Italy. "Rebuilding them, we obtained the different layers of the painting which enabled us to analyze its structure. We could see–with great precision–the state of preservation of the wood, observe the presence of fragments and debris as well as study color compositions. This information was also useful to make comparisons with the artist's other works, supporting the hypothesis of the painting's attribution." [Read more...]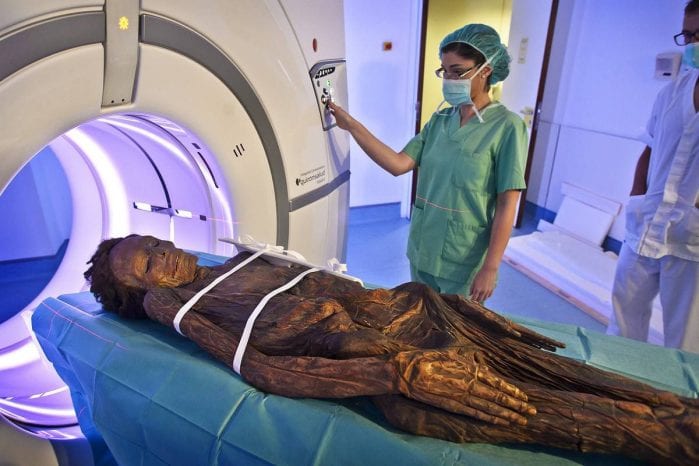 One dark night in Madrid, four mummies creeped through the doors of Quirónsalud University Hospital. They didn't come back to life to haunt the museum on their own or scare unsuspecting children afraid of the dark. Rather, they were transported there as part of a study that the Spanish National Museum of Archaeology and the University Hospital of Quirónsalud were conducting to deepen our understanding on the anatomy, process, and anthropometric and pathological of mummification. "For the first time in my career, I performed a CT scan on a mummy. It's not often we get such opportunity as radiologists," said Dr. Vicente Martínez de Vega, Head of the radiology department at Quirónsalud Madrid, who performed the scan with a GE CT system installed at the hospital. "Through the scans, we're able to ascertain the mummies' approximate age, sex, height, clothing, and if they suffered any bone fractures." All of this helps archaeologists and historical experts understand how these ancient populations lived and the kind of mummification process that each mummy went through. [Read more...]
Researchers from the Milwaukee Public Museum used the latest GE CT imaging technology to look back through time and start unraveling details about how three mummies –from Egypt and Peru– lived, died and even perhaps underwent brain surgery. One of the museum's mummies, a 2,600 -year-old named Djed-Hor from the Akhmim region in Egypt, appears to have had a precise section of his skull removed through trepanation–an ancient, rudimentary procedure designed to relieve pressure from the brain. Two other mummies, a female named Padi-Heru who is also from Akhmim in Egypt, and a Peruvian mummy who has never before been scanned, were also guests at the GE Healthcare facility in Waukesha. The Milwaukee Public Museum's Head of Anthropology Dr. Lupton and his team hope to use the high-quality CT images gathered to both learn more an out ancient medical skills and knowledge, and create 3D holographic representations of what the mummies would have looked like when they were alive. [Read more...]
GE Healthcare got a close-up look at a 42,000-year-old baby woolly mammoth using state of the art medical equipment. Discovered in 2007 by a reindeer herder in northwestern Siberia, Lyuba (pronounced Lee-OO-bah) is considered the best-preserved mammoth ever discovered. Researchers wanted to collect data to learn more about the life and features of this extinct species. "A lot of the information Lyuba can provide is not visible on the surface, so to be able to see things through a CT scan or an MRI which show her internal organs and the structure beneath her skin is really important," says Tom Swerski, Project Manager of Exhibitions of The Field Museum. In collaboration with the International Mammoth Committee (IMC) and The Field Museum, Lyuba was brought to the GE Healthcare Institute in Waukesha, WI to be imaged on three different systems. First, she was scanned on the Discovery CT750 HD, a 64-slice, high definition CT scanner. The images obtained from this scan allow scientists to learn more about her internal mineral deposits as well as her bone structure. Second, in an effort to see her entire skeletal structure from head to tail, she was imaged on the Innova® 4100IQ, a three-dimensional digital X-ray system. Finally, Lyuba was scanned on a high performance open MRI system, the Signa OpenSpeed EXCITE 0.7T, to view her soft tissue including the brain, liver and heart. [Read more...]