Dr. Richard Budgett OBE, Medical and Scientific Director of the International Olympic Committee, on what it takes to be an Olympic doctor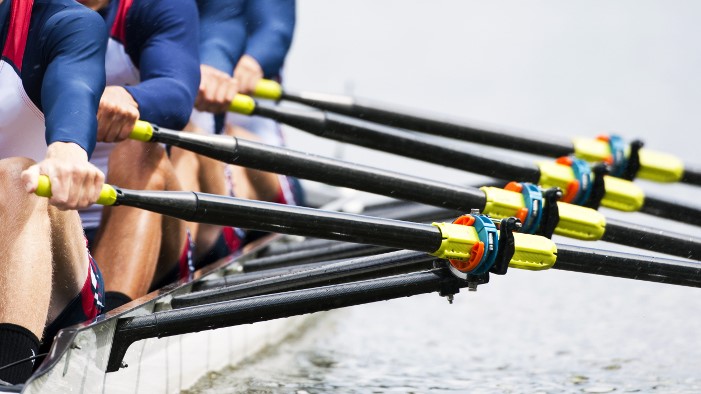 It takes a certain something to be an Olympic athlete.
The same can be said of Olympic doctors. As well as being the best in their field, they work just as tirelessly and relentlessly as the athletes themselves to deliver the best care they possibly can. After all, national glory is at stake. Few clinicians get the privilege to work with patients who are as passionate about succeeding as them.
Fewer doctors can claim to have been athletes themselves – and even fewer have won Gold for their country.
Dr. Richard Budgett OBE is an Olympic gold medalist and medical and scientific director to the International Olympic Committee. He was part of the British coxed fours that won the gold medal at the 1984 Los Angeles Olympic Games, alongside Sir Steven Redgrave.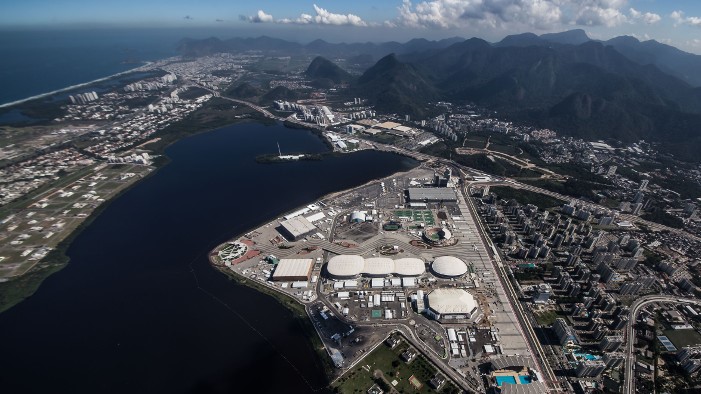 Aerial view of the Olympic Park in Rio de Janeiro, Brazil.
Ahead of his 13th at Rio De Janeiro, Dr. Budgett shared his unique perspective on sports medicine's evolution since 1984, and the way he sees healthcare going beyond the Games.
"Back then [in 1984], there was just a team doctor and maybe a physiotherapist. That was pretty much it," remembers Dr. Budgett. "There was no multidisciplinary team. We really had no knowledge of nutrition or recovery compared to what we have now… we were very much on our own."
Throughout his career, Dr. Budgett has seen sports medicine go from a niche specialty to a cutting-edge field using the latest medical tech in the world.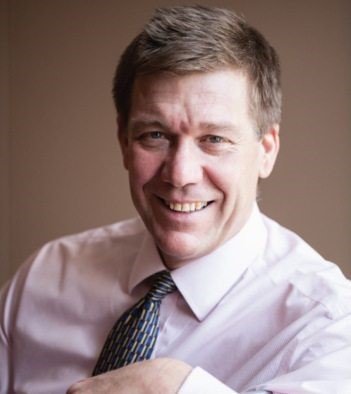 Dr. Richard Budgett, OBE
By now, almost all sporting disciplines have become as precise and measured as any other science. Every detail of an athlete's biology, biomechanics, training, psychology and nutrition are taken into account to make sure they are at their absolute peak come Games time. But one thing that hasn't changed is the fact that injuries do happen, and can undo years of training in a single moment. Dr. Budgett remembers that dread.
"It's a frightening experience for an athlete," he said. "To have sunk years and years of training into going to the Olympics, and have it all undone at the eleventh hour, is devastating." A back injury about three months before the Olympics where Dr. Budgett won Gold gave him first-hand experience of the anxieties athletes can go through. Luckily, the injury was not serious enough to stop Dr. Budgett competing.
Between 2005 and 2008, Dr. Budgett was team doctor to Great Britain's Rowing Team – helping Team GB achieve unparalleled success at Beijing in 2008. He attended the 1992 and 1994 Winter Olympics as the doctor for the British Bobsleigh Team, and the 1998, 2002, and 2006 Games as Chief Medical Officer to the British Team. He also led the Team GB HQ Medical Team at the 1996, 2000, and 2004 Summer Olympic Games, and London 2012 was his 12th Olympic Games.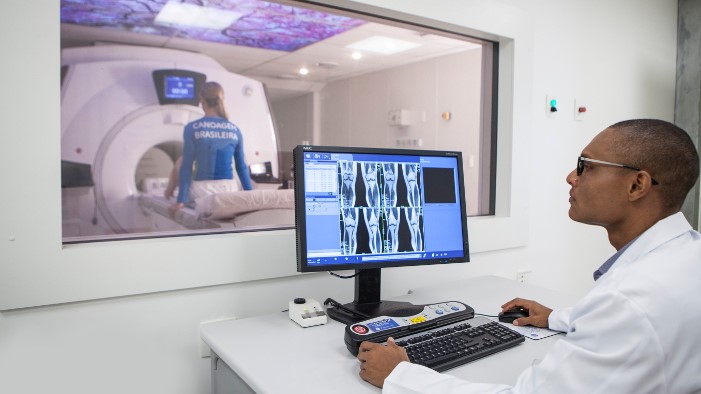 An athlete undergoing an MRI scan at the Olympic Polyclinic in Rio de Janeiro.
"What really developed over that time was the multidisciplinary team approach," he said. "The sports nutritionist, the sports psychologist, the strength and conditioning expert, the physiologist, the doctor and the physiotherapist and the masseur are all working together. That's so much more effective than having single practitioners."
The steady pace of discovery and advancement in sports medicine has culminated in the Olympic Polyclinic, which is being set up in Rio ahead of the Games. "I think [the Polyclinic] is a glittering star in the firmament of the provision of healthcare to our Olympic athletes," said Dr. Budgett. "Athletes and their medical teams have the reassurance of great expertise, and of imaging expertise in particular, at their quick disposal."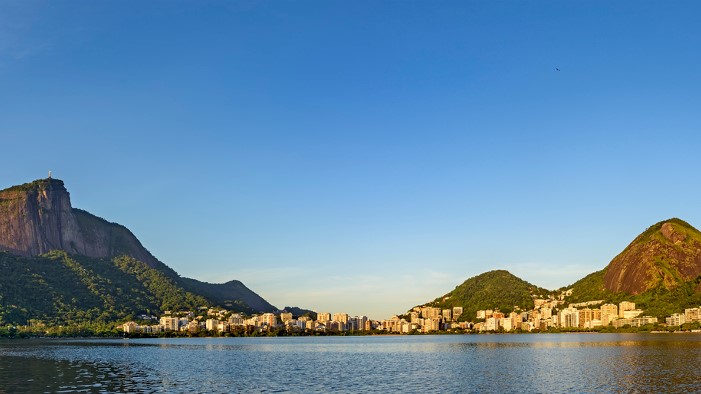 Rodrigo de Freitas Lagoon, where 2016's Olympic Rowing events took place.
As well as the Polyclinic, Rio 2016 benefited from an improved and expanded Electronic Medical Records (EMR) system that enabled clinicians to access and share their patients' medical records and images quickly and securely, filling the gaps in often scattered medical records.
"I still have, I hope, an understanding of what the athletes and coaches actually need at a Games," said Dr. Budgett. "I think people who have committed lots of time and effort to their sport will just have a gut understanding of what's involved and the sacrifice it takes to succeed, and the joy of competing to your best. And if you're lucky, the joy of winning, as well."