Oncology and cardiology are two areas of health care showing it's possible to take a more comprehensive "care pathway" view of the patient journey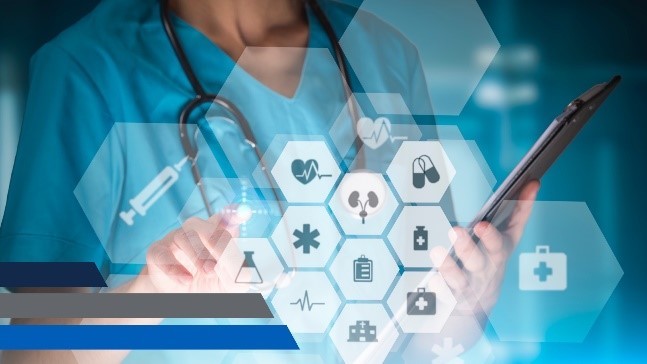 Health care isn't a collection of disconnected moments. It's a journey. A journey that crosses the continuum of care and blends multiple medical specialties. A journey where patients and clinicians come together to identify the challenges and risks, establish objectives, map out a plan, and monitor that plan to reach a positive outcome.
As a global medtech innovator, GE Healthcare empowers clinicians and patients on this journey.
How? By improving caregivers' capacity and productivity from beginning to end.
Why? Because medicine's future is precision health: highly personalized care for each patient.
What? Our scale, portfolio breadth and digital capabilities uniquely position us to be at the center of this 'precision health' ecosystem.
A generation ago, medical care and the medtech industry were less complex and focused more on moment-in-time interactions with the patient. Medtech companies like ours would sell hospitals an MRI system, an X-Ray scanner, or any number of products from a wide-ranging menu. While this is still relevant today, health care providers are increasingly taking a more comprehensive view of the patient journey via precision health – from understanding patient history and risk factors and initial diagnosis, to treatment and monitoring – and looking for "care pathway" solutions that support that approach.
Cardiologists, for example, focus on the heart and cardiovascular system holistically, and look for data from across the care continuum. They pull from ultrasound, diagnostic cardiology, monitoring, CT and MRI, in addition to patient history, labs and other EMR information, to determine the best course of cardiac care. To help address this care pathway challenge, we're piloting Cloud ECG for cardiologists in China. Deployed in the Central Hospital of Zhuanghe City and unveiled this week at CMEF in China, Cloud ECG leverages different technologies to give clinicians a comprehensive view of the patient – including remote heart monitoring – that is aimed at improving the patient experience and boosting clinical outcomes.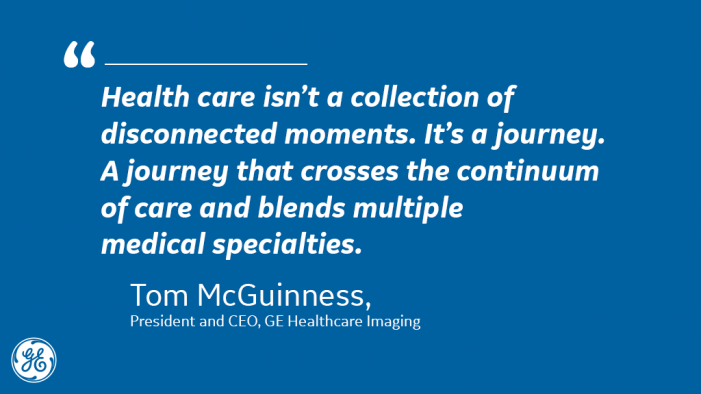 The same rings true for oncologists, who often use several diagnostic, interventional and monitoring solutions to help patients battling cancer. Oncologists already look at their job through this precision health lens – where personalized care, clinical and operational outcomes, and the whole patient experience are paramount. For example Roche, our partner in the oncology space, recently announced a first-in-the-U.S. software solution with the University of Missouri School of Medicine that streamlines and standardizes the "management of tumor boards, or multi-disciplinary meetings oncology care teams hold to make clinical treatment decisions for cancer patients."
At GE Healthcare we're committed to this care pathway approach and a more holistic view of health care. It's a journey - increasingly complex and incredibly personal.
Do you agree? Let me know your thoughts in the comments below.
Tom McGuiness is President and CEO of GE Healthcare, Imaging. This post originally