When a mammogram missed Jacquelyn's breast cancer due to her dense breast tissue, she learned about Automated Breast Ultrasound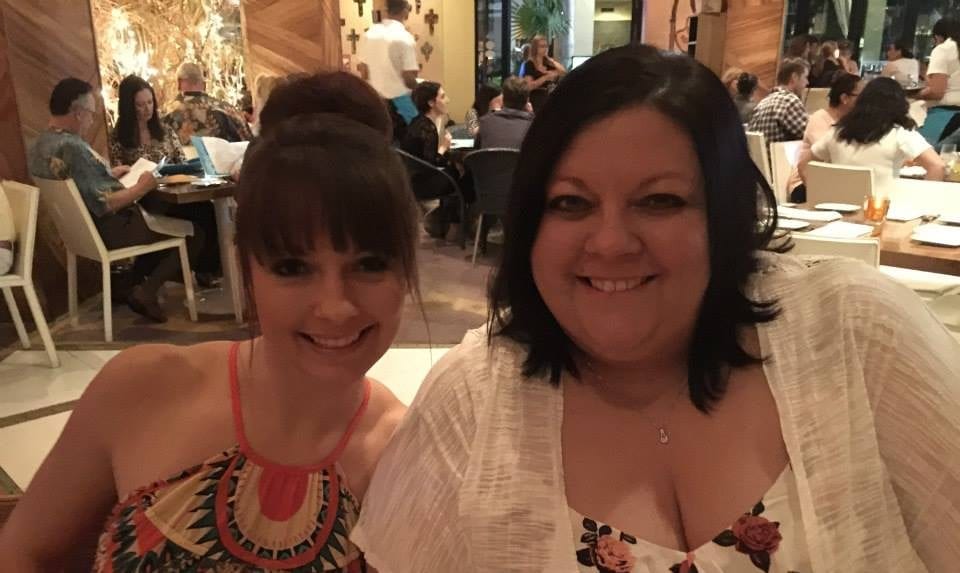 Jacquelyn and her sister
When Jacquelyn Gebel was 36 years old, she began experiencing a sharp pain in her left breast. She rushed to her doctor, who ordered a 3D mammogram. The results came back normal.
Yet, the pain continued for months and eventually, Jacquelyn went back to the breast care center. Another 3D mammogram detected a suspicious area, and a handheld ultrasound confirmed that there was a mass. Days later, Jacquelyn received devastating news: she had stage 2 breast cancer. "I was told that my dense breast tissue had hidden my cancer," Jacquelyn said.
Breast cancer is rampant in Jacquelyn's family. Her mom and grandmother are breast cancer survivors, and Jacquelyn tested positive for the Breast Cancer (BRCA) susceptibility gene when she was 30 years old. Knowing that she had a high risk of developing cancer, Jacquelyn was diligent about her breast screening. However, due to her larger breast size, she was unable to receive the recommended MRI exams for high-risk women.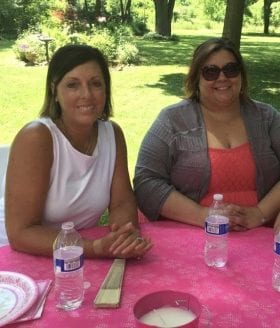 Jacquelyn and her mom
"Instead, every six months I receive a 2D mammogram, then switched to a 3D mammogram when it became available from my healthcare provider. I also received ultrasound exams after my mammograms, but frankly I never understood why," Jacquelyn says. "In an attempt to further reduce my risk, I had a proactive hysterectomy at 34 years old, and planned to have a double mastectomy when I turned 40."
Unfortunately, things did not go as planned.
Shortly after the diagnosis, Jacquelyn began chemotherapy to try to shrink and contain the tumor. The progress was monitored with handheld ultrasound, yet the results were unclear – even contradictory.
"Multiple exams showed significantly different measurements of my tumor from three to six centimeters," said Jacquelyn. "I was incredibly confused, and couldn't understand if it was growing, shrinking – or if the chemotherapy was even working."
On top of this, Jacquelyn had developed a similar pain in her right breast. Another 3D mammogram did not show any sign of cancer, but Jacquelyn was not convinced. "I no longer felt confident in mammograms due to my dense breast tissue, and they had not seen my first cancer."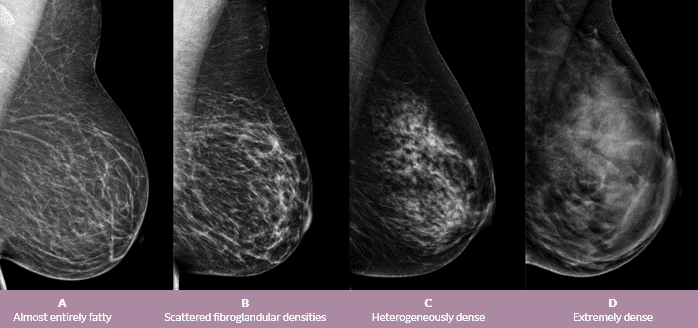 Breast density is reported as one of four levels ranging from "almost entirely fatty" to "extremely dense". As breast density increases, the ability to find cancers hiding in the white, fibrous tissue decreases
Jacquelyn started doing research and learned about Automated Breast Ultrasound (ABUS) – a 3D ultrasound specifically designed to detect cancers in women with dense breast tissue. The closest hospital to offer ABUS was 80 miles away, but Jacquelyn, alongside her mom, decided the trek was worth her time if it meant she could get answers.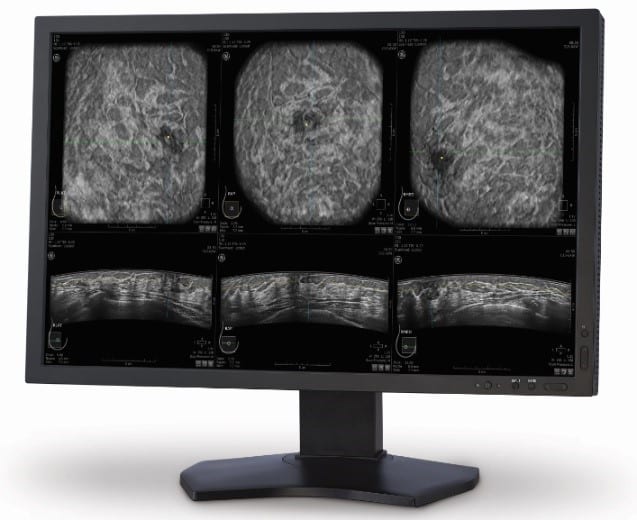 "The exam was incredibly comfortable and so different than my other experiences," Jacquelyn says of her ABUS exam at NorthShore University HealthSystem in Evanston, Illinois. "Most importantly, the ABUS exam delivered the information I needed." Her tumor size was identified and measured, and there was no sign of cancer in her right breast.
"I felt confident that the pain I was feeling was not another cancer, particularly as I was going through chemo. I finally had peace of mind, could sleep at night, and actually enjoy time with my family and friends without a cloud of doubt hovering over me," Jacquelyn said. "At the same time, I still can't help but wonder if my cancer would have been found sooner if I had been more educated about breast density and had access to ABUS earlier."
"ABUS is making a great impact in supplemental screening of women with dense breast tissue, and there are other diagnostic uses where this technology can be helpful, as in Jacquelyn 's case," says Dr. Georgia Giakoumis Spear, Chief of the Department of Breast Imaging at NorthShore University HealthSystem. "The future of ABUS is promising as we uncover a variety of areas where this imaging method can be beneficial."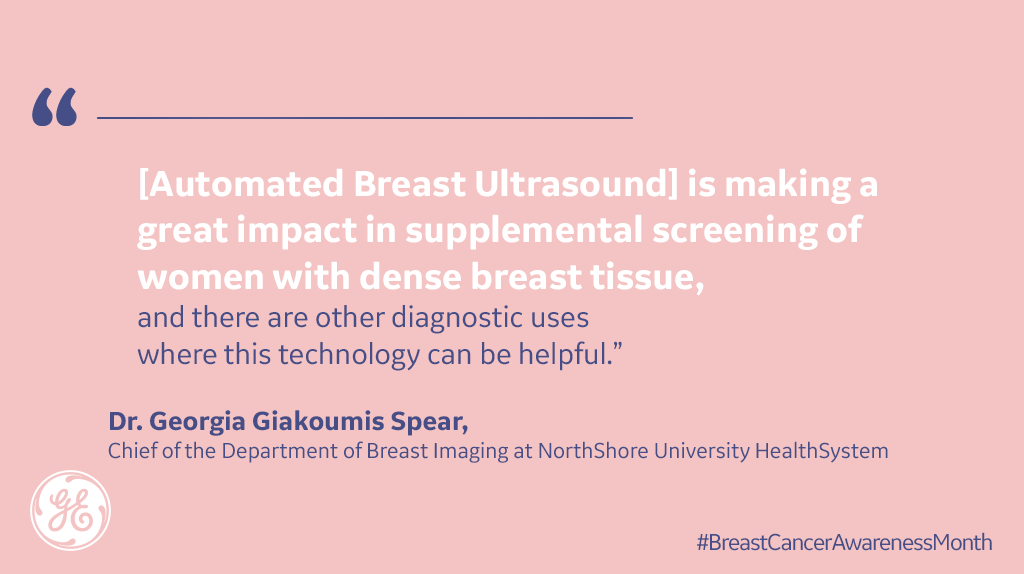 "Ever since learning about ABUS, I've been telling my family, friends, and anyone who will listen to me," Jacquelyn says. "Patients need to understand their options and seek out technology that will help them. I encourage all women to advocate for themselves if they also feel that they may be slipping through the cracks."
Jacquelyn underwent a double mastectomy. She is especially happy that the technology is available to her younger sister. "While I hope that she will avoid breast cancer all together, I'm comforted by the fact that ABUS can help see through her dense tissue and give her peace of mind."