90 percent more breast cancers are detected when doctors combine 2D and 3D mammography, according to study published in the June issue of RSNA's Radiology journal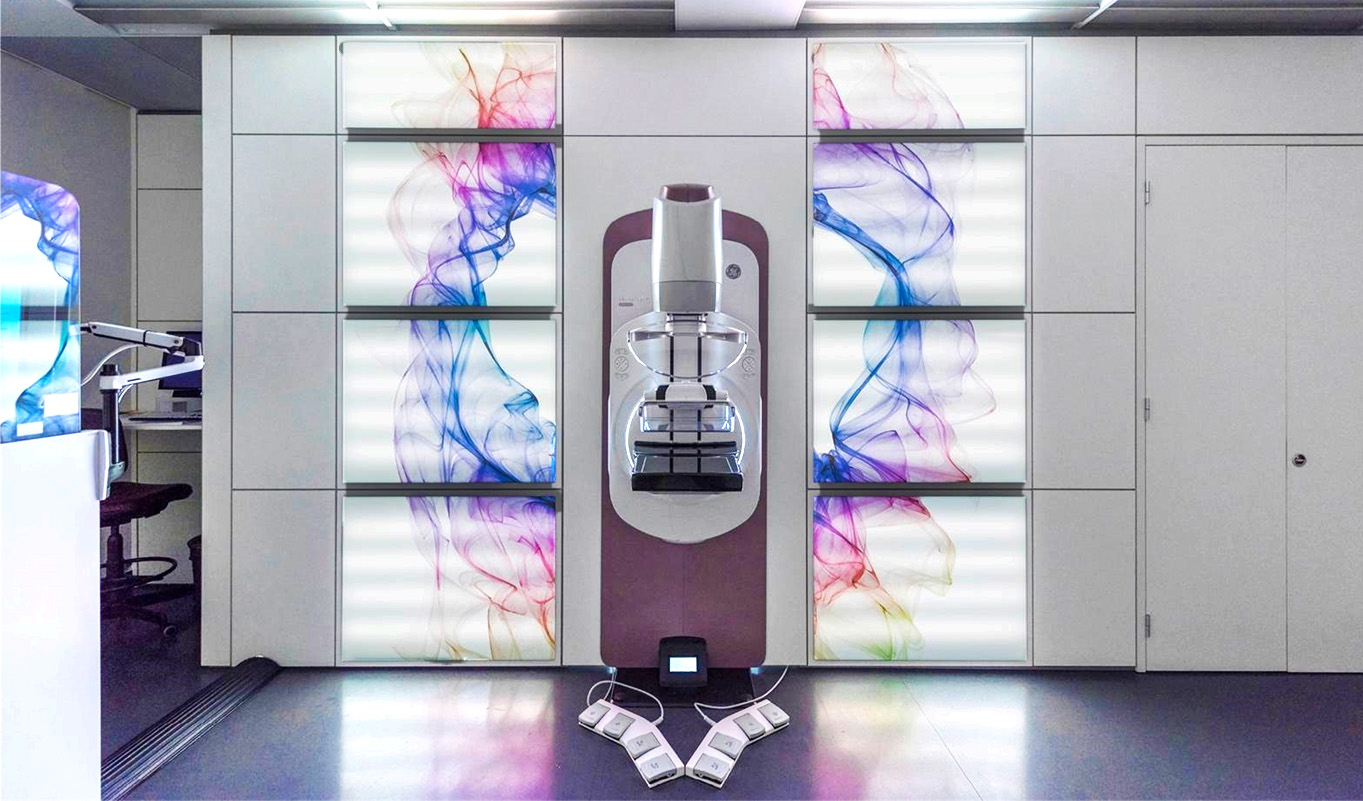 When it comes to fighting breast cancer, mammography screening is often considered the first line of defense. Many medical association guidelines, such as the American Cancer Society and the European Society of Breast Imaging, recommend that women between 40 and 50 years of age start receiving regular breast cancer screenings every one to three years. Finding breast cancer early reduces a woman's risk of dying from the disease by 25-30 percent or more[1].
There are two types of mammograms. A conventional mammogram, commonly known as 2D or Full-Field Digital Mammography (FFDM), creates a two-dimensional image of the breast. Digital breast tomosynthesis, also known as DBT or 3D mammography, is an advanced technology that uses multiple low dose X-ray images of the breast tissue to create a three-dimensional picture of the breast, helping radiologists see regions of interest in the breast free from other overlapping tissue.
"In the U.S., both 2D and 3D mammography are used for breast cancer screening," says Dr. Pierpaolo Pattacini, director of the Department of Diagnostic Imaging and Lab Medicine at Santa Maria Nuova Hospital (IRCCS) in Reggio Emilia, Italy. "It is more common for clinicians in the U.S. to use 3D mammography. However, in Europe, 3D mammography is not used for population-based screening programs."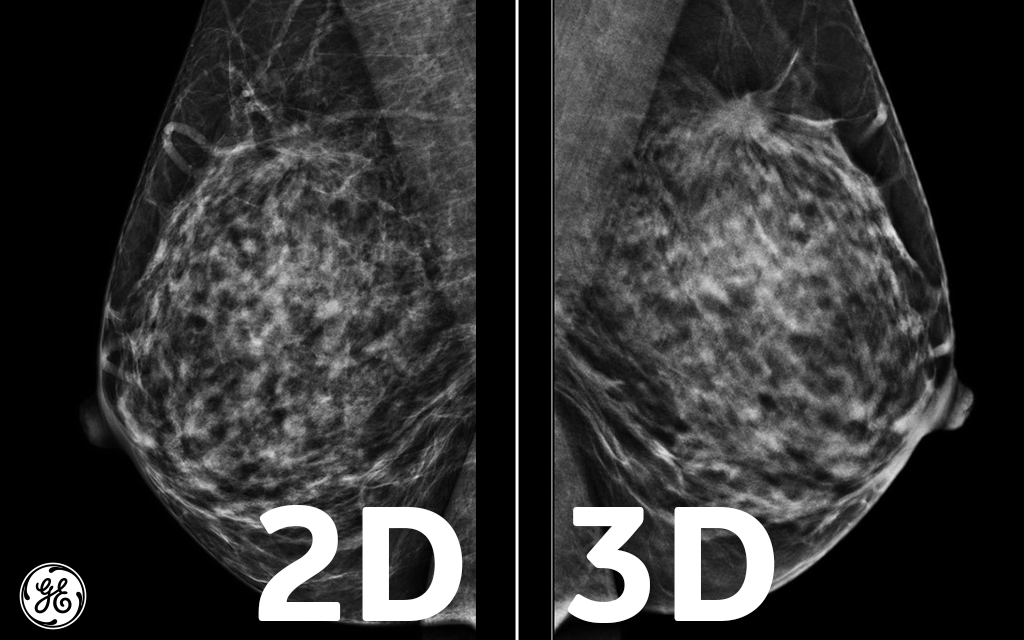 Dr. Pattacini and a team of radiologists and scientists in charge of the breast cancer screening program in Reggio Emilia set out to test the effectiveness of 3D mammography for screening by combining it with the 2D mode. Their goal was to see if the combination of 2D and 3D mammography could have a beneficial impact on patient prognosis compared with 2D alone.
The study was the first European clinical study of 2D and 3D mammography to be conducted as a population-based prospective randomized trial, the gold standard method in evidence-based medicine.
"We divided women into two statistically equivalent groups: one group was screened with 2D mammography and treated accordingly, while women in the second group were treated with the results from interpretation of 2D and 3D scans combined," Dr. Pattacini says.
Dr. Pattacini and the team conducted breast cancer screening exams on roughly 20,000 women using GE Healthcare mammography technology, comparing results from the 2D and 3D combination to those from 2D alone. The results were astounding. By adding 3D to 2D mammography for screening, the researchers detected 90 percent more cancers than with 2D alone – and with a similar recall rate.
"The fact that we saw a similar recall rate and a significant increase in the percentage of cancers detected suggests that we saw cancers earlier, which we hope will ultimately have a beneficial impact on breast cancer prognosis," Dr. Pattacini says.
The study also found the addition of 3D mammography provided similar detection rates in all breast density classes, with roughly a 70 percent increase in detection in women with dense breasts. It also showed a 94 percent increase in detecting small invasive cancers, which are usually more treatable, and a 122 percent increase in detecting medium-sized invasive cancers. Another benefit of adding 3D mode is the percentage of false positive results – women called back for further tests despite not having a cancer diagnosis – was 25 percent lower compared to 2D alone, helping to avoid additional exams and anxiety.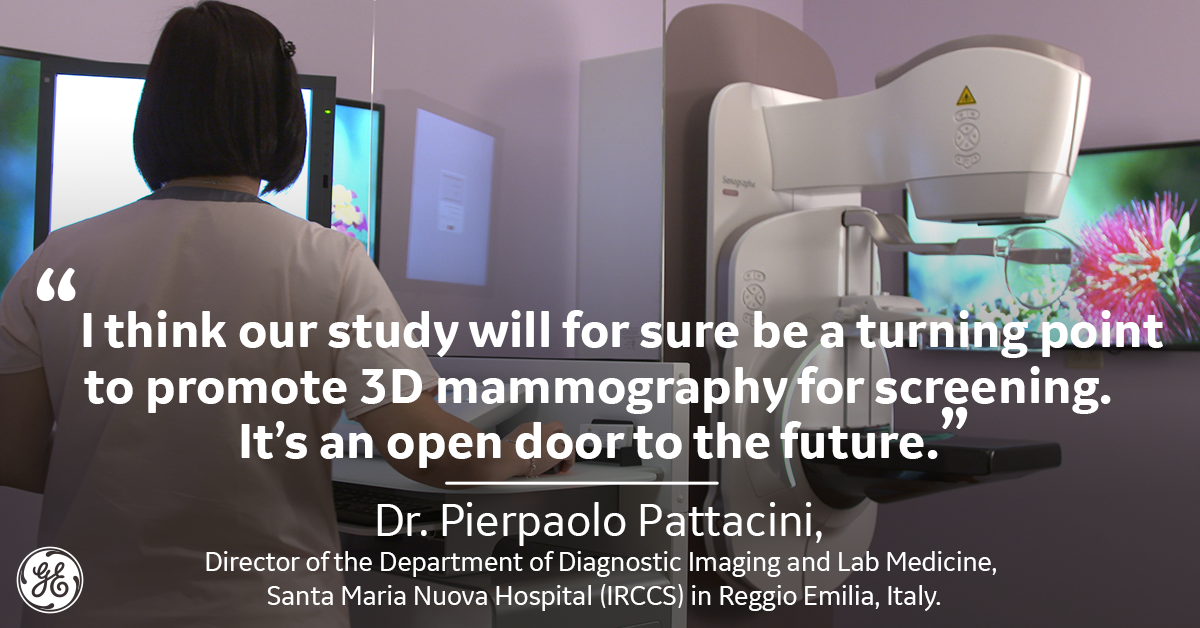 "Our data confirms the excellent results of 3D mammography, previously evidenced in other European prospective studies carried out on large-population screening programs," Dr. Pattacini says. "But our results go a step further: only randomized trials can offer data that will evaluate the effectiveness of a new screening technology, like whether it can determine if adding 3D mammography to screenings will mean fewer interval cancers are found between screenings. That's why other ongoing trials in Europe and the U.S. have a similar design."
Indeed, the study's target population included women between ages 45 and 70 who are actively enrolled in the screening program, which uses a fixed-appointment call and re-call system. Three out of the six provincial mammography centers in Reggio Emilia were included in the study, and mammogram readings were centralized and performed by ten radiologists.
"We believe that 3D mammography has marked a key point in the technological evolution of breast imaging, taking into account new research on personalized breast cancer screening," Dr. Pattacini says. "I think our study will for sure be a turning point to promote 3D mammography for screening. It's an open door to the future."
[1] http://www.breastcancer.org/symptoms/testing/types/mammograms/benefits_risks