It's estimated there will be 18.1 million new cancer cases diagnosed globally this year. Many of these patients will undergo a Magnetic Resonance Imaging (MRI) exam as part of their diagnosis, to assess whether the cancer has spread, or to plan treatments like surgery or radiotherapy.
But these exams can be uncomfortable due to the "Radiofrequency coils" that MR technicians use to specifically study different anatomic regions. These coils act like an antenna picking up signals from a patient's body and converting them to images. But they're usually bulky, heavy and uncomfortable for patients and technicians alike.
"When cancer has metastasized, patients are usually in quite a bit of pain," says Jill Whiteley-Lamb, MRI Senior Technologist at Juravinski Hospital in Ontario, Canada. "When we're imaging liver metastasis in the abdomen, some patients just couldn't even tolerate the weight of the old coil."
Now the hospital uses AIR Coils, an innovative, award-winning, new coil technology that conforms to the human body just like a comfortable blanket. The hospital started using the AIR Coils with its SIGNA Architect MRI scanner in April 2019.
AIR Coils are more comfortable for patients, yet still deliver the high image quality images radiologists need to diagnose and monitor cancer. They use innovative conductor material designed for ultra-flexibility, and each coil is lightweight and versatile enough to closely wrap around patients for incredible image quality.
"I can definitely say that the patients are much more comfortable," says Whiteley-Lamb. "The AIR Coil is so much lighter and it's so much more flexible that we are able to adapt to our patients' body limitations. A lot of our patients say the AIR Coil is a lot easier to tolerate because it's not as heavy and a lot more comfortable."
The new coil design is 60 percent lighter than conventional coils and its flexible design makes it easier for the technician to position it while conforming to a variety of patient sizes. AIR Coil technology is also leveraged in the 48-channel head coil, with a design that fits 99.9 percent of patients, from children to professional athletes.
This innovative coil design allows each coil element to be closer to the patient's anatomy for improved signal reception (also called SNR), depth of penetration and image quality.
"These coils have a wide coverage and very good homogeneity, so we obtain excellent studies with very good signal and fat suppression," says Dr. Vicente Martinez de Vega, Head of Diagnostic Imaging Service at Hospital Universitario Quirónsalud in Madrid, Spain. His MR department started using AIR Coils in February 2019 for all abdomen and pelvis exams, with a focus on oncology care and "total body" oncological exams.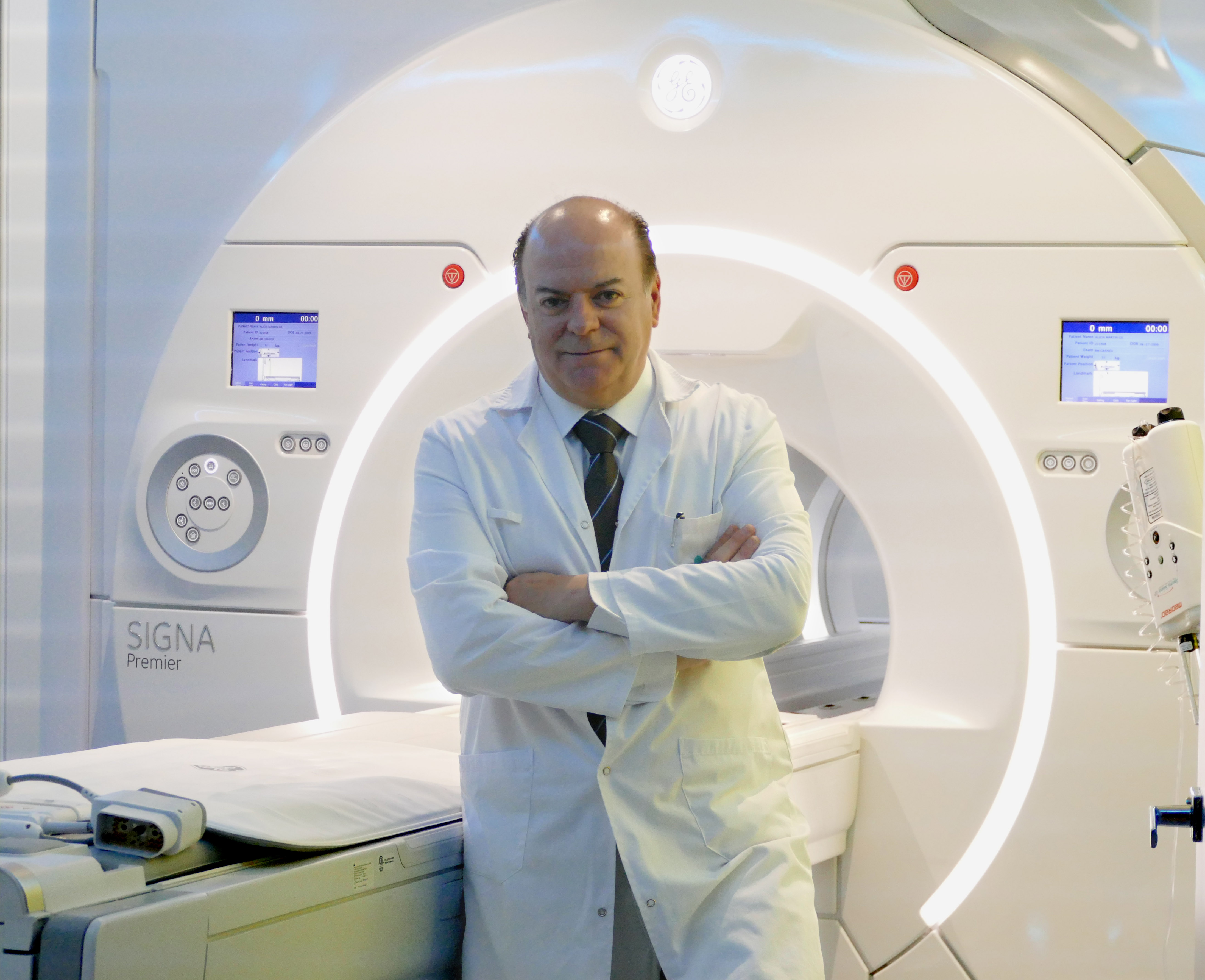 "For us, the most important thing is to have a high-resolution image, as it allows more reliable diagnosis. We enjoy using these coils very much, especially when scanning some areas of the body that are usually difficult to image homogeneously. The improvement in the image quality can lead to a better diagnosis," he says.
Patients at Hospital Universitario Quirónsalud are also noticing a difference in comfort. "We had a patient with an elbow injury who had been studied before in several occasions using the old coils. In this opportunity we did the study with the AIR Coil and at the end of the examination, he told us that he had never had such a comfortable experience during an MRI," says Dr. Martinez de Vega.
AIR Coils' flexibility is also having an impact on workflow throughout Dr. Martinez de Vega's department. "Whatever position the patient is in, the coils will adapt perfectly. As a consequence, we save time. The patient being comfortable makes it possible to obtain homogeneous images faster."
Although time savings haven't been quantified yet, he estimates that using the AIR Coil for abdominal scans saves 20 to 30 seconds per exam over traditional coils. "It may not seem much, but if I have better coverage, fewer artifacts and the patient is more comfortable, we will not have to repeat the exam as many times. In the end, time is saved, and the quality of the examination will be greater, which will result in saving time throughout the diagnostic process."
His department has four MR systems, but only one is equipped with AIR Coils, which is now the preferred system for his department's technicians. "If you ask the technicians who are working with the equipment all day, they will say they only want to work with AIR Coils."
Technologists at Juravinski Hospital also prefer to work with the AIR Coils. "The AIR Coil is definitely more user-friendly because it is so much lighter and more flexible than the previous coils. That's an improvement because of the frequency that we change the coils between patients," says Whiteley-Lamb.
Both hospitals are using the coils beyond cancer imaging. Hospital Universitario Quirónsalud uses it to image the thorax and the brachial plexus, and for exams of the hips, legs, thighs and elbows. Juravinski Hospital performs a lot of prostate, abdominal, pelvic and MSK imaging, which is also made easier with AIR Coils.
"One of the struggles we have had before was optimizing our diffusion sequence. Since we've had the AIR Coils, we can see such a big difference in the quality of the diffusion sequence. They're free of artifact, the signal is great and we're able to match up our slices with the diffusion-weighted images. That has been a huge improvement," says Dr. Scott Tsai, Radiologist and MR department head at Juravinski Hospital.
Brain and spinal imaging is also more clear with the 48 channel head coil. "Before, it was a lot more distortion in the anterior region of the frontal lobes and that has also improved quite a bit. That has improved as well, with a lot less artifact and distortion," says Dr. Tsai.
Although he calls AIR Coils a pioneering technology, Dr. Martinez de Vega sees it soon becoming the industry standard. "GE Healthcare has been the pioneer in light, soft and adaptable coils, but I'm sure it will become a standard and will be offered widely."