New technology on PET/CT systems automatically corrects respiratory motion for improved image quality and patient experience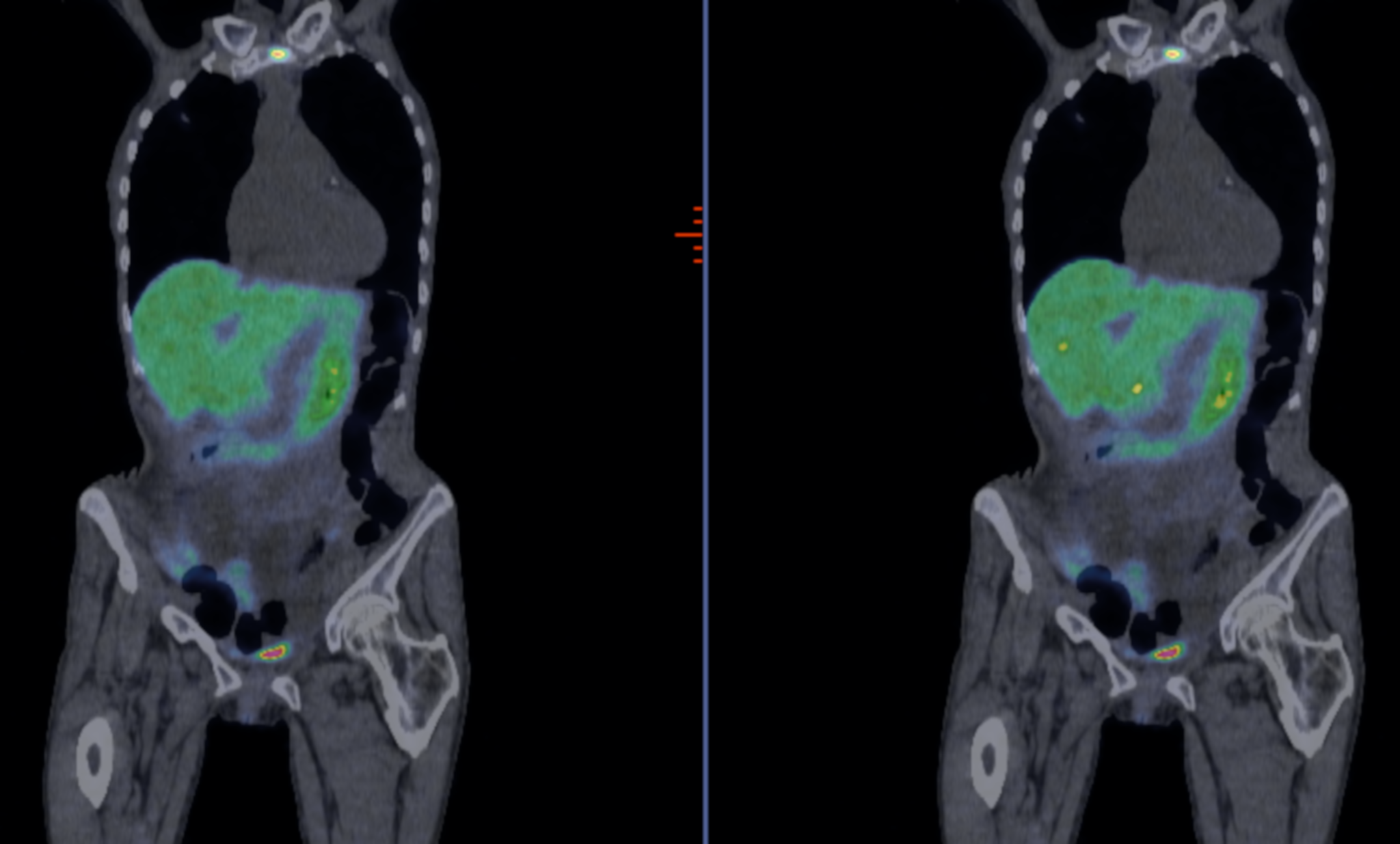 Fused FDG PET/CT coronal images. (A) PET static Q.Clear reconstruction. (B) PET MotionFree Q.Clear reconstruction shows two additional findings. Images courtesy of University Hospital Zurich.
Breathe in. Breathe out.
Notice how your chest, shoulders, abdomen, and even pelvis rise and fall with every breath. This subtle respiratory motion can drastically affect clinical images in ways that clinicians can't always predict or read around.
Over 50 percent of all PET/CT procedures – often used to diagnose, stage and monitor diseases, including cancer – are impacted by respiratory motion. This can lead to missed lesion detection, incorrect disease staging and higher dose delivery of radiation therapy to normal tissue.
It's a challenge clinicians have faced for decades, only now, it is presenting on a much larger scale.
The rise of chronic diseases, growing and aging populations, and the migration of value-based care are creating new clinical and workflow challenges for clinicians worldwide. As the use of PET/CT increases to diagnose disease and identify treatment plans, so too does the need for technology that can accommodate every patient.
Now there is a new software solution that reduces the need for external gating devices, a device that is placed on the patient's upper abdomen to limit the motion. With this new software, a weight is lifted off patients' chests so they can breathe comfortably in the scanner – all while improving image quality.
The Challenge of External Gating Devices
"The main challenge in tracking respiratory motion was the external [gating] device," said Martin Huellner, MD, senior physician and PET/CT/MR imaging specialist at University Hospital Zurich. "It required precise placement on the patient and could be complicated to install."
External gating devices are the traditional clinical solution to offset respiratory motion. These devices are positioned on patients' upper abdomen to measure diaphragm excursion and help manage respiratory motion. However, many institutions do not routinely use these devices due to their perception as complex and time-consuming to set up.
In fact, the University Hospital Zurich stopped using the device nearly eight years ago in the general population and now only uses the it for PET/CT imaging of lung malignancies prior to radiation therapy.
Additionally, for very sick patients, including those who have difficulty lying on their back, the addition of an abdominal gating device could make the exam even harder to tolerate. And in some cases, the patient's position blocked the line of sight between the device and the camera at the foot of the scanning bed, impacting the acquisition of patient motion data.
A New Solution to Work Around Respiratory Motion
To address these patient experience issues and provide real-time respiratory analysis, GE Healthcare developed MotionFree, a digital solution that monitors respiratory motion in the background of every PET/CT procedure and automatically clears away image distortions known as motion artifacts.
During a clinical evaluation of this technology, University Hospital Zurich also used the external gating device, the existing standard of care, to compare the two methods.
Results showed that in cases where the new technology was used, patient set-up time was reduced, as was technician exposure to dose. More importantly, the team in Zurich discovered that if the software solution was not utilized for a patient, they could still get the benefits afterwards by processing the images using the motion correction software.
However, it was the resulting image quality that most impressed Dr. Huellner.
"The corrected images using MotionFree improved image quality for the lungs, but also more than expected in other anatomies," he said. "We found the contrast of the organs was better defined in several patients; in particular, the kidneys and the liver were better visualized."
There was also a noticeable difference in Standardized Uptake Values (SUVs), a measure used to determine whether a legion may be considered a malignant tumor based on the concentration level of injected radiotracers in the tissue. In the tiny lesions, and depending upon the type of lesion, there were instances of the SUV max accuracy increasing by up to 30 percent with the new technology.
Poor definition of the lung and liver can cause additional image distortions, Dr. Huellner explains, and leads to uncertainty regarding whether there is homogeneous uptake or reduced uptake on the border of the organ. Also, good definition of the organ on the PET image that appears similar to what is seen on the CT image improves the overall impression for the radiologist.
"I was more confident in my diagnosis, staging and reporting when I reviewed the MotionFree gated images, especially in the upper abdomen, lung and liver," Dr. Huellner continues.
Dr. Huellner believes he reported fewer questionable findings in the liver using this new technology and, as important, could better visualize tinier, small lesions. While it is too early to know if a patient's treatment plan was altered as a result of visualizing these tiny lesions, he recalls one case of a patient with lung cancer where he found metastases in both lobes of the liver—something he didn't expect to see.
"With MotionFree, we more closely approached reality—the SUV was more reliable and that may influence follow-up exams where clinicians often rely on the SUV," Dr. Huellner adds.
For Dr. Huellner, "The combination of a seamless workflow and improved image quality is great. Since there was no additional setup time, it did not disrupt patient throughput. We plan to use this routinely on all patients.