5 questions with: Matthias Merkel, M.D., Ph.D., and James Heilman, M.D., M.B.A., of Oregon Health & Science University (OHSU)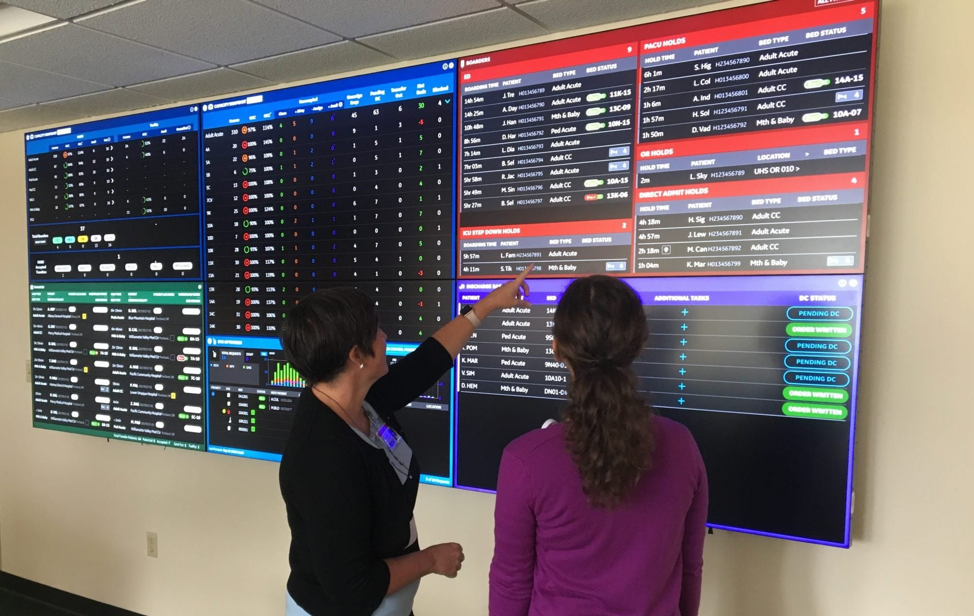 As many business leaders out there know, when an operation becomes too complex and time-consuming, there are usually several options.
One is to add more people. Another is to remove pieces of the workload or downgrade services. Sometimes the answer is to find technology that can do the work instead.
For a hospital, where so many vital care providers are already involved, where removing any sort of service or offering can be the difference in patient outcome or the health of a community and where there is no substitute for a clinicians' training and knowledge, these usual options often aren't options. Yet as anyone in involved in the increasingly complex and time-consuming industry of health care will tell you, no option is not an option.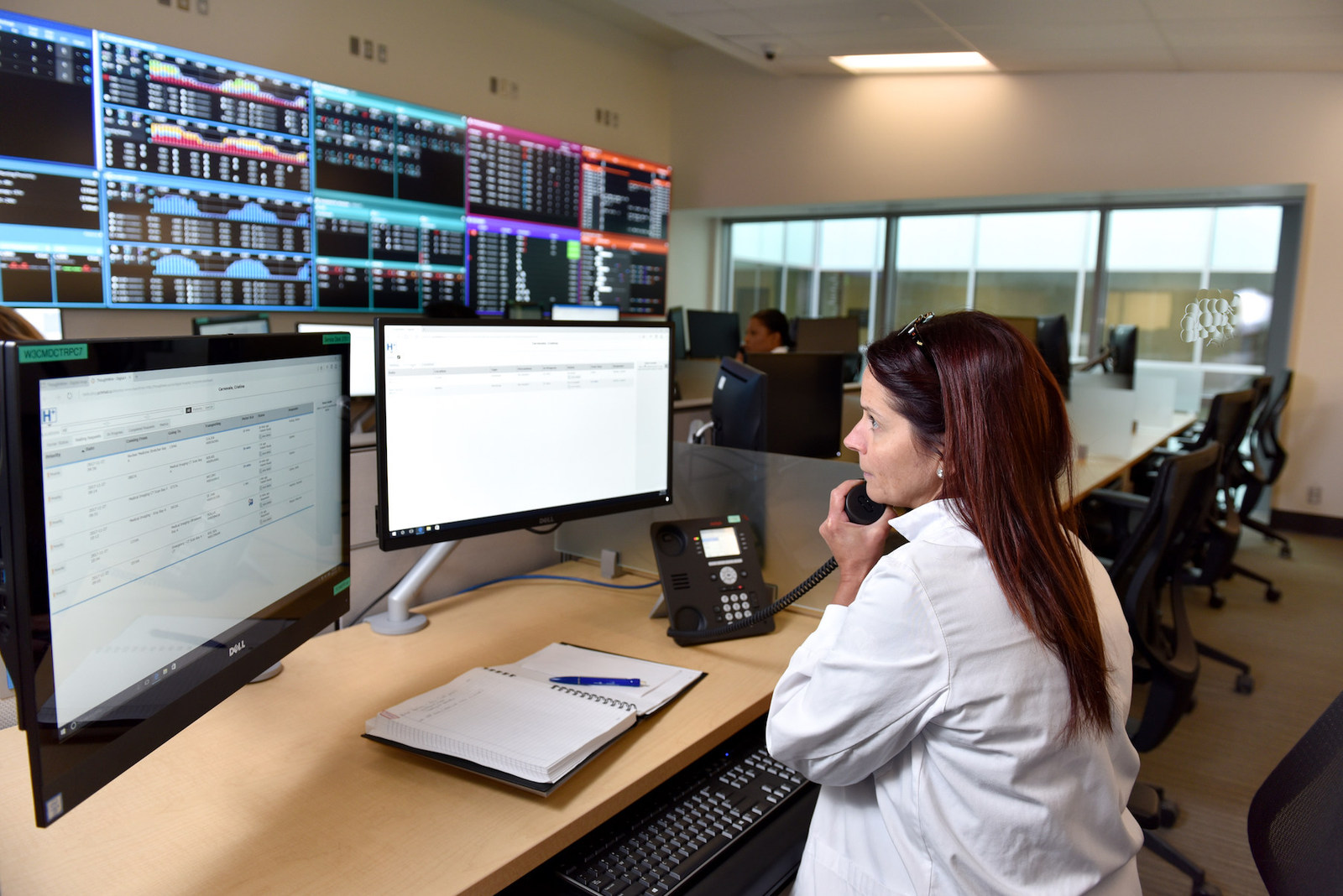 Mission Controller inside Humber River Hospital's NASA-style command center
To find a solution for health care, we can look at examples like Oregon Health & Science University (OHSU) in Portland, Oregon in the U.S., which I think is among the best in setting an example for how a hospital can run. In a complex system — caring for patients across Oregon's only academic health center and two partner community hospitals, each of which have different electronic health record systems, multiple streams of patient and bed flow data, and individual processes – OHSU has implemented an AI and predictive analytics mission control command center to help them better use the resources – people, services, EHR systems – already at their disposal.
In one year, this mission control center has delivered results – including an 18 percent reduction in the number of declined transfer patients – that amount to seven times OHSU's return on investment. The early success has even prompted OHSU to create an app to address one of the most prevalent and challenging risks to patients across health care systems everywhere: sepsis.
Other innovative institutions in the U.S. are also seeing similar results and this UK hospital recently announced a first-of-its-kind hospital command center in Europe to improve efficiency and patient care.
I asked two experts and great partners in creating the OHSU mission control center 5 questions to get their inside take. Here's what Matthias Merkel, M.D., Ph.D., professor and vice chair of critical care, Department of Anesthesiology and Perioperative Medicine, OHSU School of Medicine; and medical director of adult critical care and chief medical capacity officer at OHSU; and James Heilman, M.D., M.B.A., assistant professor and vice chair, Department of Emergency Medicine, OHSU School of Medicine, and chief medical transfer officer, OHSU, said.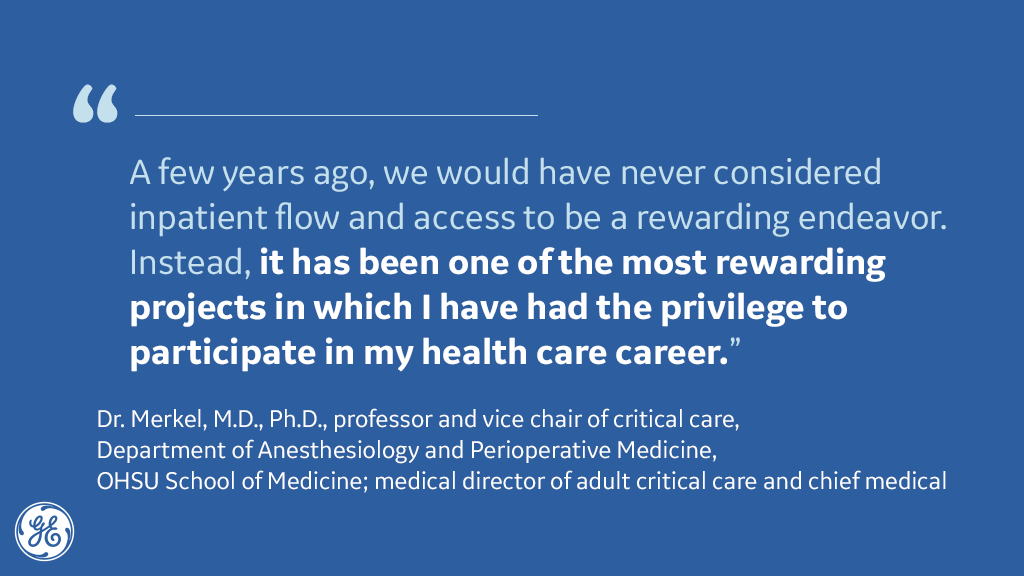 What immediate results are you, the clinicians, and your patients seeing?
Dr. Heilman: Our goal was to get patients the right care at the right time at the right place with the right team. The year before we opened the Mission Control Center, we declined more than 500 transfer patients due to capacity issues. Many of these patients could have been better served by one of our partner community hospitals, often closer to their home and family. With Mission Control, we have increased the number of patient transfers our health care system can accept by 6.4 percent, reduced the need to decline transfers by 18 percent, and successfully transferred 519 patients to our community partners.
What's one of the biggest surprises you experienced in creating a mission control center?
Dr. Merkel: A few years ago, we would have never considered inpatient flow and access to be a rewarding endeavor – most considered it similar to a bitter pill you have to swallow, a necessary evil. Instead, it has been one of the most rewarding projects in which I have had the privilege to participate in my health care career. It has allowed us to influence the route patients take in our system, engage with coworkers and look behind the curtain of hospital operations we never knew about, and, frankly, did not connect well.
Dr. Heilman: The Mission Control Center has been a disruptive innovation for how we work together as teams and has increased the focus on solving our collective problems together. It is not as simple as turning the technology on and then the system is fixed. Rather, it has been an iterative process because the tiles – the digital displays of data in the center – have provided us with real-time feedback, motivating us to quickly improve our processes and change our roles to better perform.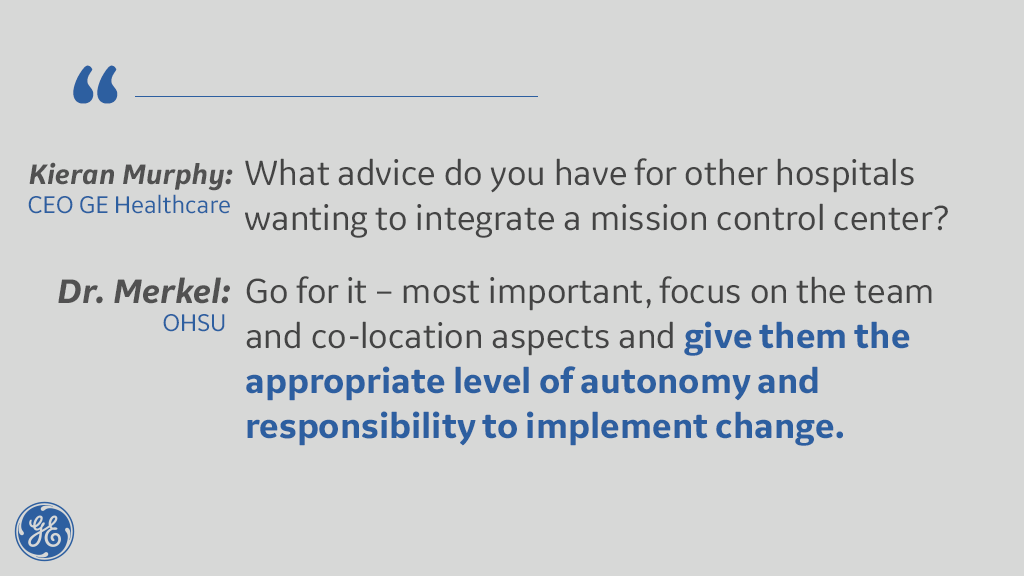 What advice do you have for other hospitals wanting to integrate a mission control center?
Dr. Merkel: Go for it – most important, focus on the team and co-location aspects and give them the appropriate level of autonomy and responsibility to implement change. Having teams interact and learn from each other can revive lost energy and joy in being a health care team member at any level. Listen and observe and then trust that you have the right team to get the job done. And make it work at 2 a.m.
What inspires you to continue working in the challenging environment of health care each and every day?
Dr. Heilman: As an emergency physician, I'm continually inspired by the privilege of caring for patients in the Emergency Department, and having the opportunity to positively impact the lives of our patients and their families on a systems level. Physicians are critical to carrying our complex health care system forward because we can be innovative about how we restructure care systems and have a clear purpose to serve our patients. I feel very lucky to be part of the work we have been doing at Mission Control because we have increased access to care for hundreds of patients in our region.
Dr. Merkel: Every day is different and presents a new opportunity to make a difference for our patients, and for all of us working in health care. Together, as an interdisciplinary team, we can solve problems and come up with solutions that we couldn't achieve in isolation. Using today's technology in a positive way is such a refreshing process, worth getting up each day and continuing to innovate – we owe it to our patients.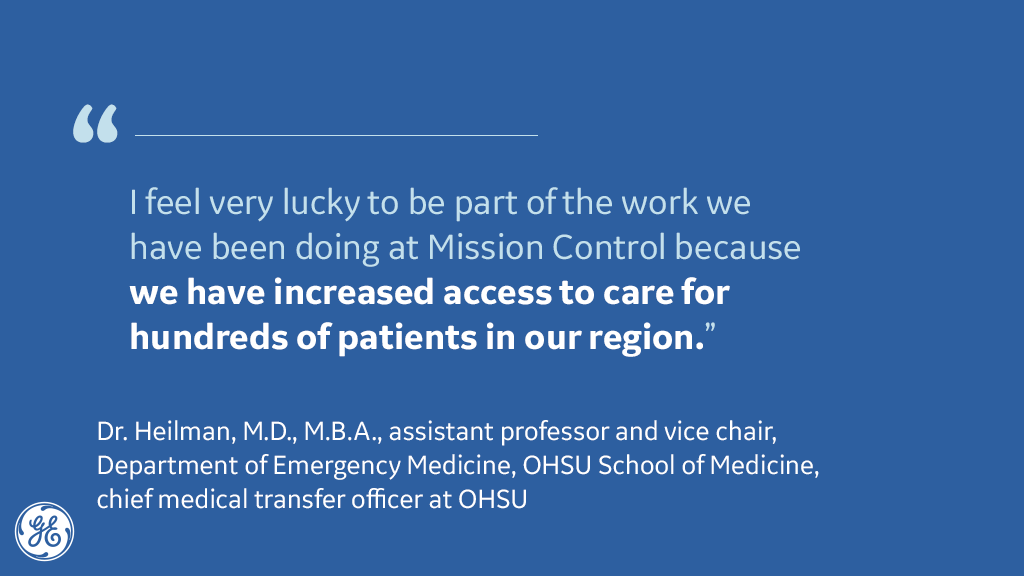 How would you describe the future of health care in 3 words?
Dr. Heilman: Challenging, innovative and restructuring
Dr. Merkel: Challenging, promising and exciting