Veterans Administration and GE Healthcare partnership reduces the time it takes for radiologists to create 3D-printed models from hours to minutes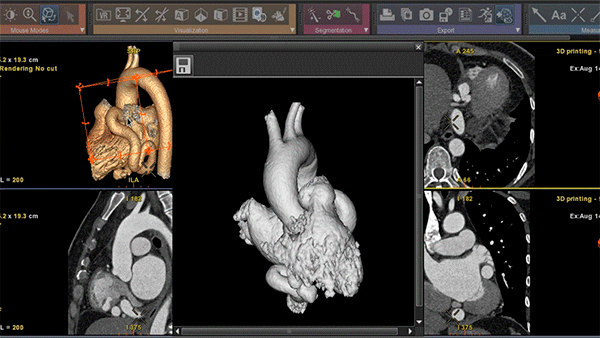 Preparing to 3D print a fistula
When VA radiologist Dr. Beth Ripley stepped into the convention center housing the largest conference for medical professionals in her field, the Radiological Society of North America, she was already familiar with one of the hottest topics making the rounds that year – radiologists needed to defy the stereotype that they only stared at screens in dark rooms and instead get on the front lines of care.
Dr. Ripley, a radiologist at VA Puget Sound Health Care System, agreed, but took it a step further. She was already examining her patients' hearts in the palm of her hand, unique chambers, valves and all.
And their knees. And their skulls. Those were there too.
She wanted all radiologists to be able to easily pull images out of the computer screen and into their hands, allowing interaction with the data in a deeper way.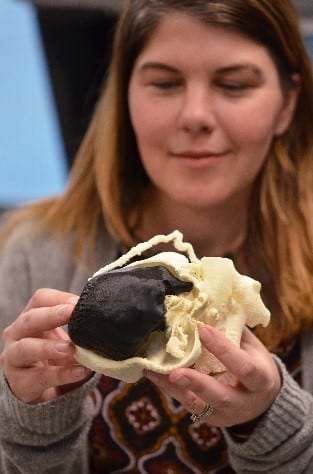 Beth Ripley, VA Puget Sound Health Care System radiologist, examines a model of a kidney with a cancerous tumor used in pre-surgical planning (Photo by Chris Pacheco)
"Looking through thousands of two-dimensional MRI or CT images to understand a patient's anatomy takes time and training. By 3D printing this anatomy, we can provide a richer and more intuitive understanding of a patient's physiology, which helps to make clearer diagnoses and plan for surgeries," said Dr. Ripley. "At VA, we have the additional opportunity to do this on an unprecedented scale, as the largest integrated health care system in the country."
It was 2016, and the beginning of her effort to pioneer 3D printing at the Department of Veterans Affairs. Today she is Chair of the VHA's 3D Printing Advisory Committee nationally and a major catalyst behind Puget Sound's announcement today of a partnership with GE Healthcare to bring advanced visualization 3D printing software to hospitals around the country. The effort is expected to not only benefit the VA's 9 million patients, but inform future research, development and scalability of 3D printing applications in healthcare.
This account of how Dr. Ripley and a team of early believers at the VA brought their vision for what was an often futuristic-sounding technique to the US's largest provider of healthcare is based on interviews with colleagues, industry experts and Dr. Ripley herself.
3D print model of a foot (Photo courtesy of VA Puget Sound Health Care System)
3D printing has become a staple topic in healthcare trends. A market research report by IndustryARC projects the 3D printing healthcare market is expected to grow by 18 percent annually until 2020. And the PwC Health Research Institute's annual report lists 3D printing as one of the growing trends in healthcare innovation. But when Dr. Ripley began her efforts, putting 3D printing into practice, in a way that would have tangible results for provider and patient, proved a challenge.
3D printing software designed specifically for medical use was limited. As innovators in the use of 3D printing, Dr. Ripley and her colleagues had historically used non-medical freeware and software created for industrial and computer-aided design applications to print models for surgeons before surgery. Earlier this year they published their findings, showing how 3D printing helped surgeons prepare for procedures and radiologists diagnose disease in 3D Printing and Additive Manufacturing journal.
"In the beginning, many people were dismissive of 3D printing; there wasn't an obvious immediate need and some saw it as a fad. However, a few of us realized early on that 3D printing offered some distinct benefits, including improving communication between physicians and patients and boosting understanding of complex anatomy. After a few early wins, the flood gates opened," Dr. Ripley said.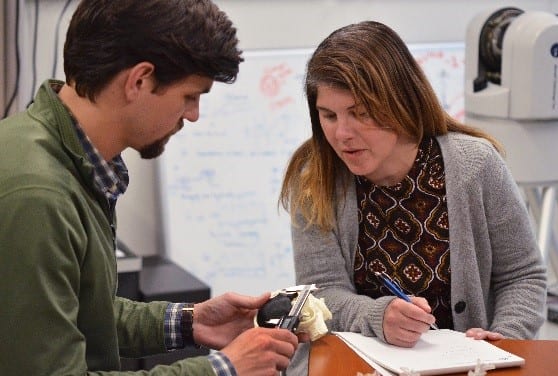 Dr. Ripley and Brian Strzelecki, research health sciences specialist at VA Center for Limb Loss and Mobility perform a quality check on a model of a kidney with a cancerous tumor to ensure the 3D printed model accurately represents the patient's anatomy (Photo by Chris Pacheco)
Then, emboldened and given the bandwidth to do more, she faced another challenge with their non-medical software: shifting 3D printing from a labor-intensive process, requiring hours of a radiologist's time to prepare and print an anatomy model, to a diagnostic endeavor that would be as common and quick as reading an MRI or CT image.
"Segmentation is definitely a labor of love. Even anatomy that seems relatively straightforward to segment can be a challenge if the imaging dataset is not perfect," said Dr. Ripley.
Until she met Colin Holmes, PhD, Director of Digital Product Management at GE Healthcare. At the time GE Healthcare was developing a 3D printing technique that allowed doctors to use its AW Workstation to export images into formats for a 3D printer.
"It was clear right away that Dr. Ripley brought a wealth of practical knowledge and had such clear ideas about what needed to be done to make this happen across the care spectrum, that we just had to help her," Holmes said. "We all felt we had a really great chance to tangibly impact patient care at the VA."
Alongside an expert in advanced visualization for computed tomography, Amy Deubig, and Jimmie Beacham, Chief Engineer for Advanced Manufacturing Engineering at GE Healthcare, Dr. Ripley worked to start bringing this advanced visualization tool, specifically designed for the medical community, into the VA hospitals. Today's news that the VA will integrate more GE Healthcare advanced workstations with 3D printing software in unprecedent numbers at hospitals in Seattle, San Francisco, Minneapolis, Cleveland and Salt Lake City is the end result.
More importantly, it will reduce the time it takes for radiologists to create 3D models for printing from hours to minutes. Dr. Ripley and the GE Healthcare teams of experts believe it will help radiologists everywhere better visualize patient anatomy and disease for diagnosis, surgical and treatment planning – improving health outcomes, reducing time to treatment and enhancing the patient experience.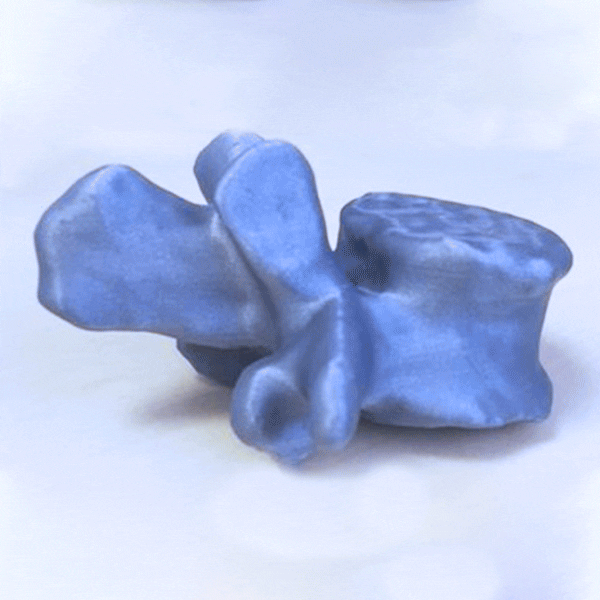 A 3D printed bone and knee
GE Healthcare says that with its advanced visualization tool, VA radiologists specializing in cardiology, oncology, orthopedics and general radiology can quickly produce and critique models from patient studies as part of their normal clinical tasks.
"The idea is that these radiologists can easily become full-time 3D printing practitioners, allowing them to spend more time focused on patient care and less time on the process and mechanics of producing 3D models," says Terri Bresenham, Chief Innovation Officer for GE Healthcare. "They will likely lead the field forward, developing new 3D imaging approaches, techniques, and postprocessing steps to deliver improved precision healthcare for the nation's veterans and the entire healthcare industry."
GE Healthcare estimates that 70 percent of its imaging systems have opportunities to integrate additive manufacturing opportunities in the next 10 years.
There is a growing body of evidence that 3D printing can have a strong positive effect on surgical outcomes, physician training and patient education.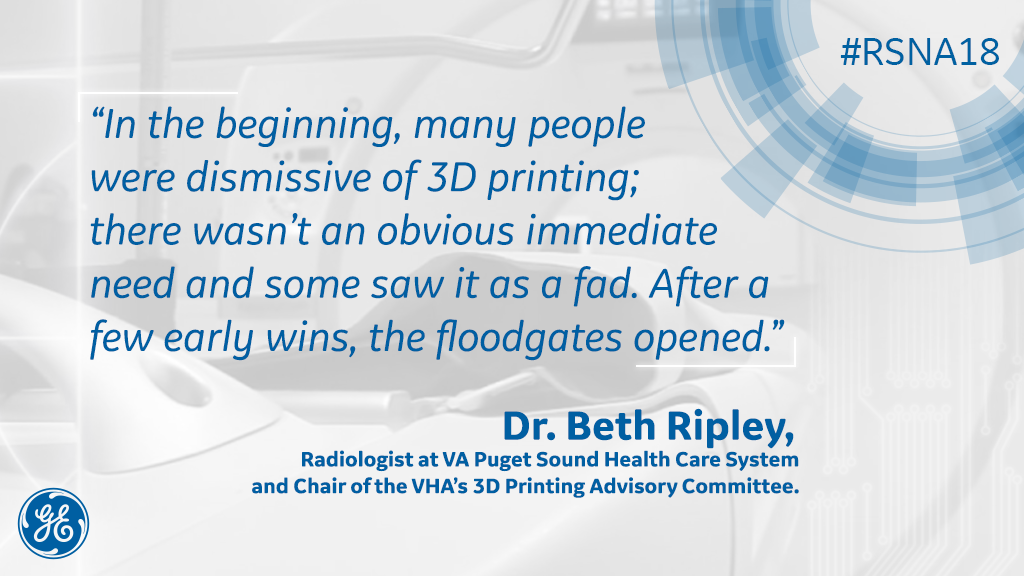 As for Dr. Ripley, she estimates the VA is defining new use cases for 3D printing almost weekly. For her, it's more than the advancements she's been able to pioneer. It's where she's pioneered them.
"The VA has a strong culture of innovation and a mission to honor veterans by providing exceptional health care that improves their health and well-being. The fact that VHA has embraced 3D printing and supported front line staff who are using the technology to provide unique solutions to their patients is a testament to this," said Dr. Ripley.