With global cancer rates expected to increase to 24 million by 2035, a new grant may help further develop the PET/CT technology used to diagnosis and monitor the disease

As global cancer rates are expected to increase to 24 million by 2035 – up from the estimated 14.1 million cancer cases worldwide in 2012 – hospitals and clinicians are challenged to find new ways to diagnose, stage and treat these diseases.
One tool that's gaining importance in this fight is PET/CT imaging. The PET/CT scanner was named the medical invention of the year in 2000 by Time Magazine and by 2011, 90% of PET/CT scans were used to diagnose and monitor many kinds of cancers. From 2015 to 2017, the number of clinical PET and PET/CT scans performed in the U.S. increased by 13% to nearly 2 million scans. Overall, the outpatient PET market in the United States is expected to grow by 9% through 2021.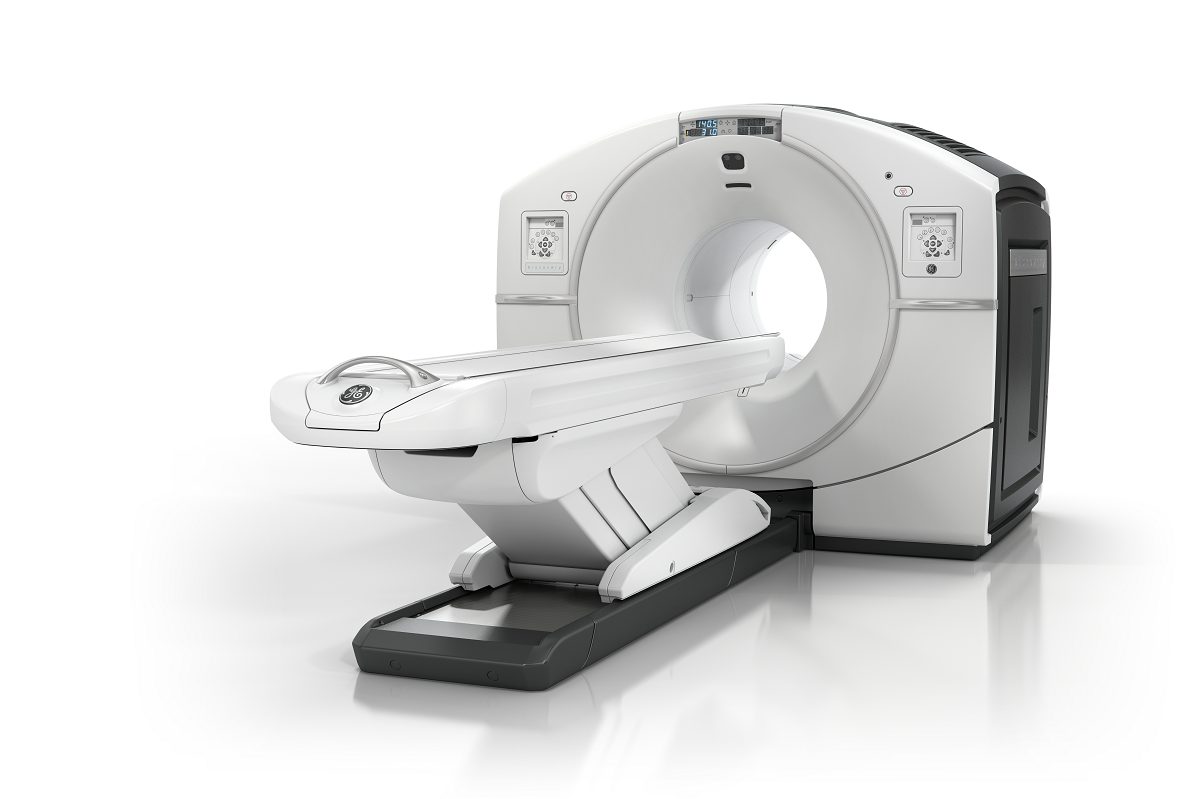 GE Healthcare's Discovery MI PET/CT system
PET/CT is becoming a critical link between diagnostic imaging and precision medicine for every patient. It's also a key technology for a new kind of precision medicine that you might have never heard of: theranostics, which brings together diagnoses and treatment in one application, providing a more targeted, efficient therapy than ever before.
"Theranostics brings together therapy and diagnostics so the physician can inject a therapy that kills cancer metastases and at the same time acts as an imaging tracer to follow-up on the response to treatment to see if it's effective. This is the future of therapy and diagnostics," says Nathan Hermony, Vice President and General Manager, Molecular Imaging, GE Healthcare.
What is PET/CT?
Positron Emission Tomography (PET) is a type of nuclear medicine imaging that uses tiny amounts of radioactive material – called a "tracer" – to diagnose, stage and monitor diseases, including cancer and neurological disorders such as dementia and seizures.
After the tracer is injected, swallowed or inhaled as a gas, it releases radioactive emissions that are detected by the PET camera. These emissions provide molecular information, such as blood flow, oxygen use, and glucose metabolism, which are used to create pictures with highly detailed information about both the structure and function of organs and tissues in the body. PET images can show changes at the cellular and molecular levels, helping clinicians diagnose disease in its earliest stages and monitor patients' response to therapy as soon as it happens.

"The most common type of PET scan is a picture of the metabolism of glucose. Cancer cells are hungry for glucose and they show very nicely in the PET scans," said Sergio Calvo, PET General Manager, GE Healthcare.
In PET/CT, one machine takes PET and computed tomography (CT) images simultaneously, then "fuses" them into one image, generating a complete picture of molecular and anatomical structures. These PET/CT scans help clinicians pinpoint the anatomic location of abnormal metabolic activity within the body – often with greater precision than if the scans had been performed separately. What's more, PET/CT can be less expensive and yield more precise information than invasive, exploratory surgery.
"You can immediately see response to treatment with PET, but you won't see it in the CT," continued Calvo. "The early detection of disease and the early understanding of response to treatment is what is so important in PET/CT, because you can see changes in molecular activity so much earlier than what you see in the anatomy."
New R&D in Israel
Despite its many benefits, PET/CT imaging is still underutilized in many parts of the world.
"When we talk to physicians, especially referring physicians, they don't always understand the benefits of PET," says Hermony. "So, what we are looking at is, how can we make PET more accessible to every community? And there are so many opportunities."
Helping develop these opportunities is a $13.8 million grant (50 million shekels) from the Israeli government. GE Healthcare was recently named as one of three multinational companies to receive Israeli government funding over the next five years to help expand research and development centers in Israel and establish the country as a hub in biotechnology and medicine.
"Our intention for this grant is to develop PET/CT innovations and technologies that will change outcomes for patients, physicians and technologists worldwide," says Hermony. "There is a lot of opportunity to improve scan efficiency and accuracy to help physicians and technicians more accurately diagnose disease and identify the best course of therapy."

GE Healthcare plans to expand its engineering team, existing facilities and PET/CT capabilities to support these efforts. One area of focus is to develop technologies that will eliminate much of the manual PET/CT processes handled by technologists, which will improve workflow and ease of use, while speeding up the exam for the patient.
Hermony says the grant will also help GE make the exams faster for patients and minimize radiation dose. He also expects to invest in more artificial intelligence capabilities, which will help promote the progression to precision medicine and theranostics.
"We will be able to optimize our equipment to do a much better job in detecting those tracers and quantifying them in a more accurate way, so physicians can clearly understand if there is a response to treatment. That's clearly something that we'll see more of in the next generation of PET/CT," he says.
Calvo says this grant will help GE develop PET/CT processes and protocols that will support clinicians in detecting disease faster than ever before with crystal clear images of anatomy and biochemistry, whether it's in the smallest of cancer lesions or the finest structures in the brain.
"We have an ambitious vision and this incentive from the Israeli government is going to expedite and accelerate a lot of those pursuits in the near future, as opposed to waiting decades to see some of those innovations," he says.
Hermony expects this to have wide-reaching implications for both physicians and patients. "This grant will give us the ability to accelerate programs and products, so we can get to the market much faster and have an impact on patient outcomes," he says.