Advances in Magnetic Resonate (MR) imaging are also helping physicians better catch prostate cancer, the fifth leading cause of death from cancer in men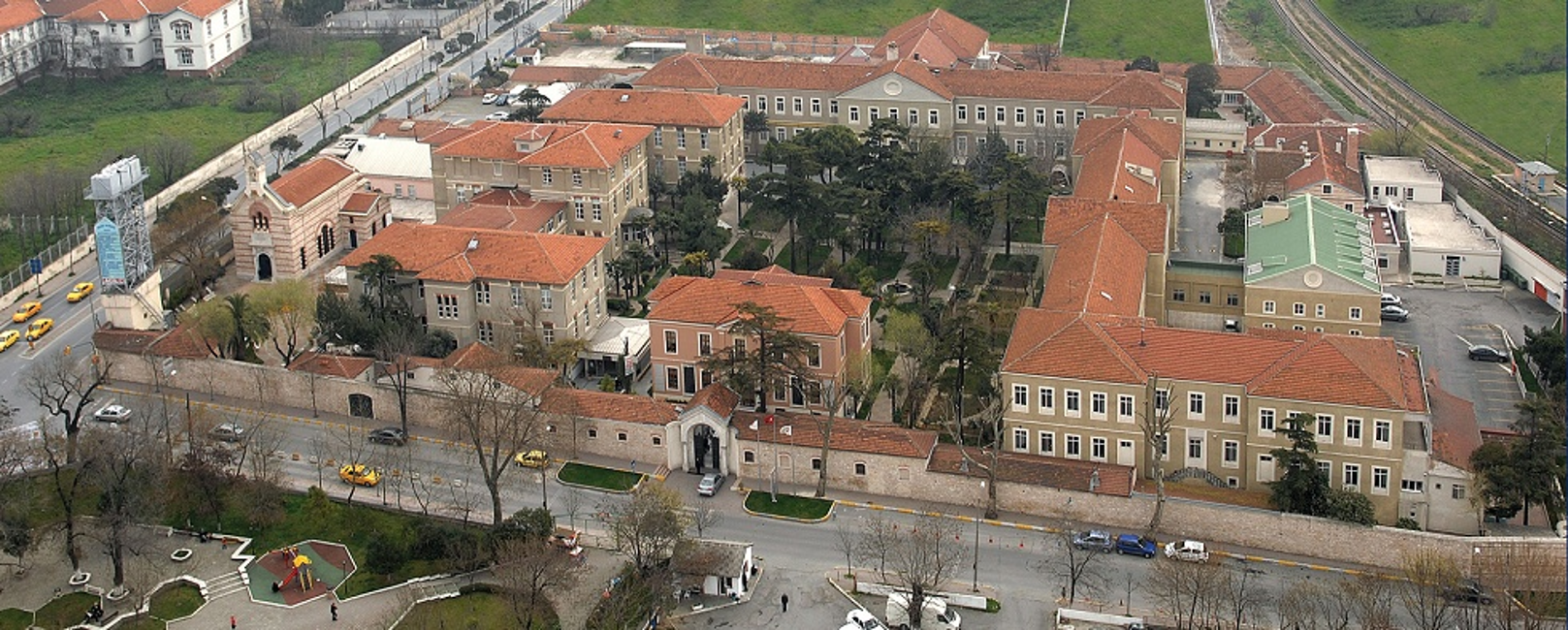 Surp Pırgic Armenian Hospital in Istanbul, Turkey
An estimated 1.8 million men worldwide were diagnosed with prostate cancer in 2016, making it the fourth most common cancer in men and women, and the second most common cancer in men. With an estimated 307,000 deaths in 2012, it's also the fifth leading cause of death from cancer in men.
Traditional prostate exams such as ultrasound-guided transrectal biopsy and rectal examination can be uncomfortable and embarrassing for patients – as these numbers rise, new Magnetic Resonance (MR) exams that overcome some of these challenges are becoming more popular in helping to diagnose and stage the disease. In 2016, there were 536,000 MR scans of prostates globally.
To improve the patient experience during MR prostate exams, the Surp Pırgiç Armenian Hospital in Istanbul, Turkey, has implemented a new imaging process on its 3.0T SIGNA Pioneer MR system with Total Digital Imaging (TDI) for increased image clarity. Now the hospital is joining other facilities in eliminating the endorectal coil in MR prostate exams, which has significantly improved the patient experience at the hospital.
"The discomfort of the endorectal coil no longer exists for patients," says Professor Kantarcı, a radiologist and head of the radiology department at Surp Pırgiç Armenian Hospital, who specializes in MR prostate imaging. "Accurate diagnosis is essential for both physicians and the patient because it directly affects the treatment choice and follow-up," says Professor Kantarcı. "These recent advancements, therefore, have a direct impact on patient management overall."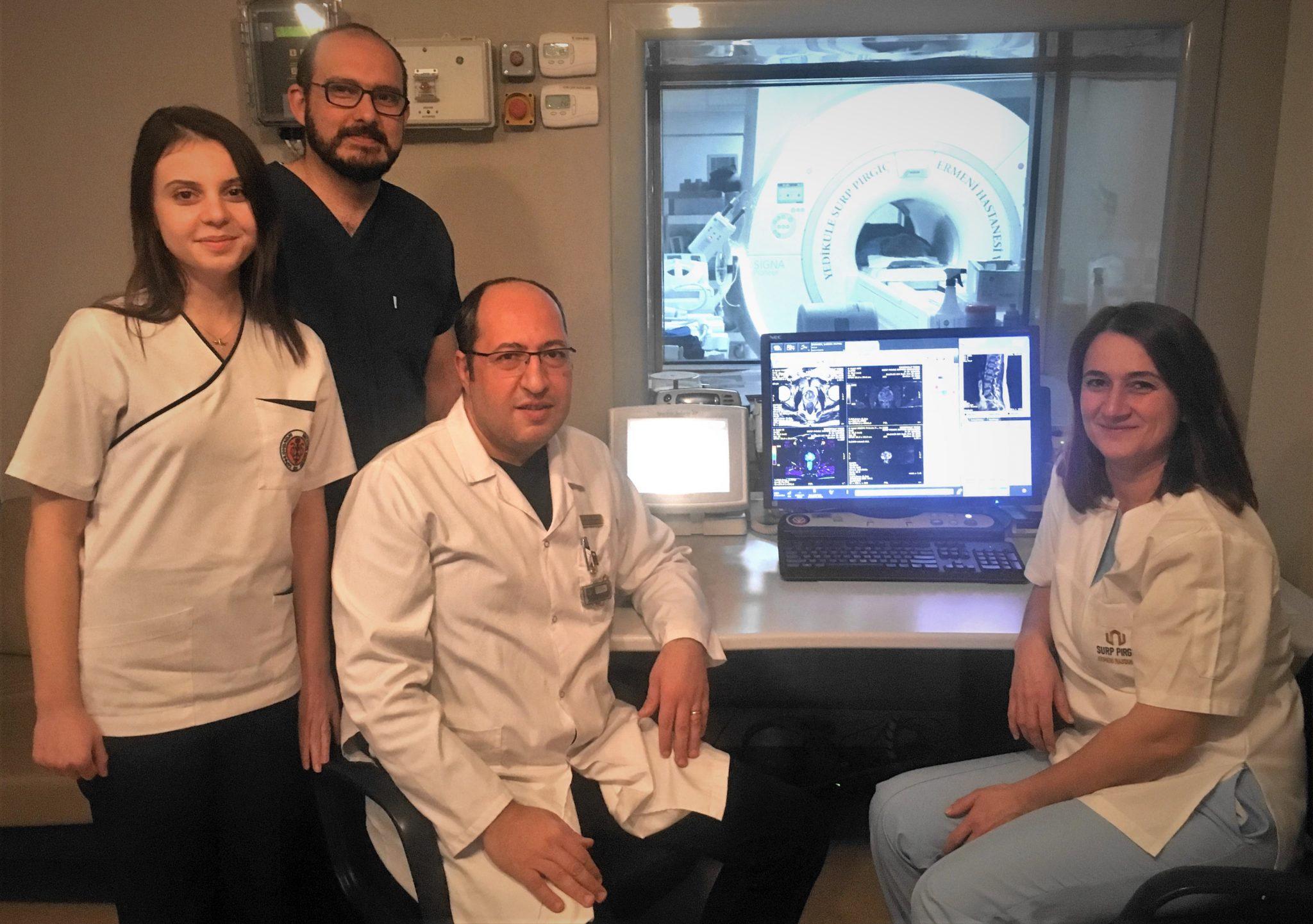 Prof. Kantarcı and team
He says this imaging technique helps him "feel more confident" in his diagnoses, reduces unnecessary biopsies and helps him make better treatment decisions.
This elimination of coils has also reduced scan time, allowing patients to get out of the machine faster, and more patients to be seen. With the previous system installed in 2006, the facility completed about 25-30 prostate exams per year with endorectal coils. After using SIGNA Pioneer, they saw a twofold increase in those numbers within the first year. In the second year, they saw 100 patients and in the third year, they scanned 100 patients in just five months.
Özgür Demirkılınç, an MR Clinical Leader at GE Healthcare, has worked with the facility since 2006 to maximize their GE systems. As prostate cancer cases increased and MR imaging became more common, Demirkılınç recognized that the hospital needed a better way to image the prostate. He initially suggested imaging prostate cases on the hospital's SIGNA Pioneer system.
"The MR imaging of prostate used to be run with endorectal coils, but after we started using the 3.0T scanner with TDI, the new technique to increase image quality, we eliminated the need for endorectal coils, which also contributed to better patient comfort and cooperation," says Demirkılınç. "From the first moment of using new TDI coil technology on SIGNA Pioneer, we noticed dramatically high signal-to-noise ratio results."

The above images are taken with an imaging technique called PROPELLER that is able to compensate for patient movement with a reasonable scan time to improve the patient experience while delivering high-resolution images for the clinician.
Demirkılınç was recently honored by his peers with an award that recognized his forward-thinking use of TDI Imaging technology. "The global recognition of such collective efforts makes all of us proud for sure," he says. "We all celebrated this success together and we're looking forward to achieving more."
The prostate is a walnut-sized gland located in front of the rectum and below the bladder, surrounding the urethra. This small imaging area means the MR system needs high-spatial-resolution imaging in a small area of interest. Traditionally, an MR exam of the prostate involves an endorectal coil, a thin wire covered with a latex balloon that's inserted through a small plastic tube into the rectum. This location puts the coil it as close as possible to the prostate, which helps generate more detailed MR images and can significantly improve image quality and diagnostic confidence.
MR provides high-resolution images with very high tissue contrast, which allows clinicians to see lesions within the prostate gland to help them determine the extent of disease. Additionally, MR can show the restriction of movement of water molecules commonly seen in some prostate cancers, which can help clinicians detect and stage prostate cancer.
"There is an unmet need in diagnostic tests for prostate cancer," says Ersin Bayram, body and oncology MR applications manager at GE Healthcare. "The prostate-specific antigen (PSA) blood test is not specific enough, and soft-tissue contrast is limited with other imaging modalities. MR could fill this gap with its exquisite soft-tissue contrast."

This image shows specific areas clinicians can image using a technique called DISCO that provides ultra-high temporal and spatial resolution. Normally, clinicians have to make a tradeoff between the two, meaning either a long scan time or high-resolution images. The right side of the image shows the MRI signal intensity over time.
In Spain, prostate cancer is the most frequently diagnosed tumor in men and the third leading cause of cancer mortality for males. Traditionally, the cancer is diagnosed during a rectal exam, an ultrasound-guided transrectal biopsy, or through blood analysis to determine levels of prostate-specific antigen (PSA).
But these procedures can be inaccurate – in fact, 15.2% of patients with prostate cancer have normal PSA levels or tumors that aren't noticeable during a rectal exam. And ultrasound-guided transrectal biopsy has up to 47% false negative rate. [1]
That's why physicians at the University Hospital Quirónsalud in Madrid are starting to use a new technology called Multiparametric Magnetic Resonance (RMmp), an MR imaging technique that allows them to non-invasively study the prostate. This exam helps detects the volume of a tumor and can track the progression of its development, a key element in properly diagnosing and treating the disease.
"Multiparametric magnetic resonance represents a real revolution in technology to help diagnosis, treat and follow-up for prostate cancer patients," says Dr. Manuel Recio from University Hospital Quirónsalud.
According to data presented by Dr. Recio, using RMmp to screen men for prostate cancer can reduce invasive diagnostic biopsies by 27%. It also helps increase the detection of prostate cancer to 70% using MR, a significant improvement over the 40% rate of traditional biopsies.
It also helps guide biopsies, reducing the number of tissue samples needed to make an accurate diagnosis. "Normally, 12 to 24 samples are needed for diagnosis, especially if PSA levels are very high. With RMmp guided biopsies, only two or three samples of the suspicious lesion and three samples of each lobe are required, reducing the duration of the examination while also avoiding a high percentage of biopsies," says Dr. Recio.
With these kinds of advancements in non-invasive imaging and high image quality, Dr. Recio, Prof. Kantarcı and Demirkılınç expect that many prostate exams in the future will be conducted with MR imaging, making the exams easier to perform and more comfortable for the patients.
[1] According to data presented by Dr. Manuel Recio, from Hospital Universitario Quirónsalud (Madrid, Spain) during the III Interhospital Radiology Days of Extremadura, Spain. February 2018.
MR images are courtesy of Surp Pirgic Armenian Hospital