A new collaboration is the latest sign that healthcare centers may no longer be constrained by their physical walls. 
One of the fastest transitions in healthcare history occurred with little fanfare during the COVID pandemic. Radiologists who interpret images of the human body started working from home in droves when patients began getting scanned far from major hospitals, which were overwhelmed with caring for those stricken by the coronavirus.
This led to some radical—and quick—upgrades. For instance, one Texas radiology business serving dozens of hospitals had limited telehealth infrastructure in place, essentially just enough to cover overnight work while the rest of its 140 radiologists slept. With lockdowns imminent they rushed to purchase computers, security software, and other equipment to enable more widespread work from home. By the end of April, half of the company's image readings were being done remotely.[1]
Something else trended up during COVID. A significantly higher portion of physicians reported being unhappy and not for the reason you may think. Of more than 12,000 doctors surveyed at the middle of 2020, just half said they were happy compared more than two-thirds before the pandemic. Doctors who reported feeling burned out in a separate survey question, cited bureaucratic demands on their time as the most frequent cause (nearly two-thirds pointed to paperwork and bureaucracy, while just one in 12 specified caring for COVID patients).[2]
This trend toward telehealth and doctor burnout both lead to the same place: the cloud. While technology has allowed more virtual medicine to be practiced, hospitals and their doctors are still a long way from having all of the tools they want at their fingertips, wherever they want them.
A new collaboration between GE Healthcare and Amazon Web Services (AWS) promises to help change that, and, in the process, open up a world of potential for the healthcare industry, patients and even the startups bringing artificial intelligence (AI) to the bedside.
Offering GE Healthcare's advanced imaging software and Edison Health Services platform on AWS is more than putting AI-enabled applications in a data center. It offers the chance to break down the four walls of the hospital and reorganize how care is delivered from the traditional health center-based model to a distributed, virtual one,[3] while aggregating clinical data to allow for meaningful analytics and insights.
Take enterprise imaging, for instance, the first application the GE-AWS collaboration will focus on. Hospitals and health systems want the ability to direct patients to get scanned where it's convenient for them. But scanning a patient can be complex and sometimes must be tailored to the patient and their condition. So, hospitals want to be able to interact directly with a remote imaging machine and its technician to guide the process. Likewise, they want their radiologist to be able to see the urgent studies in near real-time and apply the latest in AI-assisted reading, detection and quantification. Rural hospitals, too, see the value in being able to send a scan to a larger facility with more specialists in given conditions or diseases. Physical location will matter less and less, while having the right process and clinician managing the care will become the paramount focus. Accessing GE Healthcare's suite of imaging applications—from data storage to algorithms that help interpret CT, X-ray and MRI scans anywhere[4]—will speed this fundamental healthcare transition.
AI is an area where placing services on AWS speeds innovation and can help clinicians improve the level of care. AWS offers the broadest and deepest set of machine learning services and supporting cloud infrastructure, putting machine learning in the hands of every developer, data scientist and expert practitioner, along with HIPAA-eligible services that use machine learning to unlock the potential of health data. Today, startups are developing computer applications that take on many of the mundane duties that doctors complain lead to feelings of burnout. Startups are also creating algorithms that use AI to help improve radiologists' efficiency and accuracy in interpreting patient scans. But integrating these algorithms into existing radiology workflows can be a drain on the limited resources of a young company developing AI. Having the Edison AI Orchestrator and Enterprise Imaging System[5] both on AWS reduces the workflow integration burden for both the AI developer and the imaging center or department.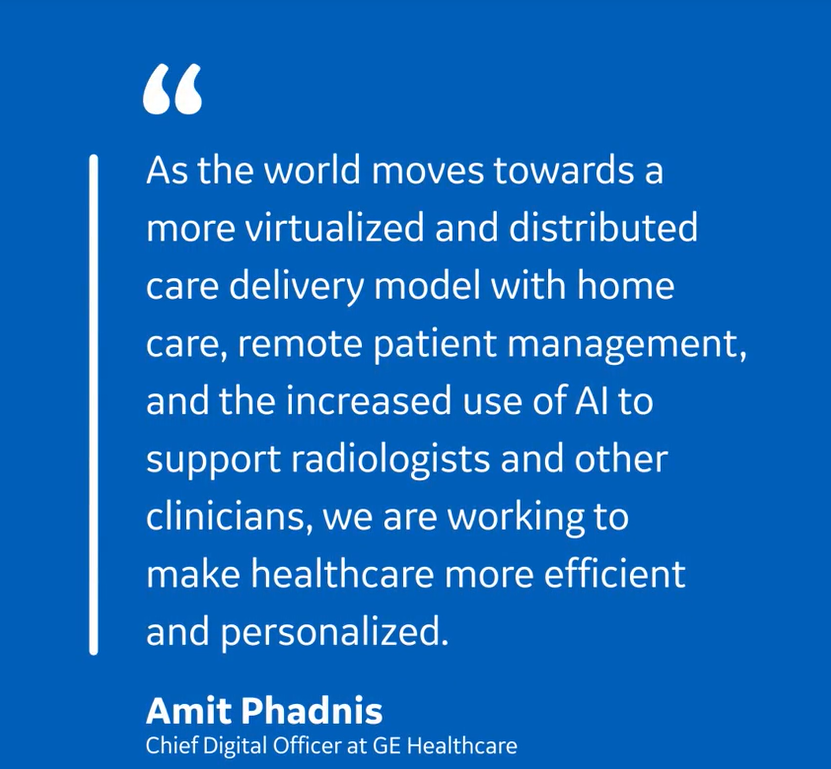 "As the world moves towards a more virtualized and distributed care delivery model with home care, remote patient management, and the increased use of AI to support radiologists and other clinicians, we are working to make healthcare more efficient and personalized," said Amit Phadnis, chief digital officer at GE Healthcare.
For some radiology businesses, moving to the cloud has even more fundamental benefits. Take Neuro Imaging Winter Park in Florida—The quality of their MRI imaging attracts visits from Mayo Clinic physicians and others to see how they implement the latest technology. Moving their enterprise imaging (PACS) to the cloud means spending less time maintaining software.
"If you don't have a big IT team that's dedicated to constantly making sure everything's up to date, and the latest protocols are being followed, then you're at risk," says Richard Duemmling, chief of business operations. Hackers take advantage of software that's out of date or hasn't had the latest patches applied but with limited staff it's a challenge to keep the company's picture archiving system (PACS) on the latest version.
For Neuro Imaging, AWS capabilities and experience in healthcare helps to alleviate anxiety about placing patient data on a server in a data center. "Especially with AWS doing the hosting, their uptime levels are incredible," Duemmling says. "So anything that's within their control to keep it up, will be handled by them."
GE Healthcare plans to roll out more software applications on AWS, Phadnis says, but the crucial area of imaging will showcase how cloud services can help a wide range of healthcare practices to securely deliver cost effective, AI-powered solutions at scale.
Click here to learn how GE Healthcare's PACS solution creates radiology without walls.
---