G-CON Manufacturing and GE Healthcare announce collaboration to advance early-stage cell therapy and viral vector manufacturing

Biopharmaceuticals might be the future of medicine, but manufacturers are facing an age-old problem in producing them: inadequate facilities. For the last 10 years, respondents to BioPlan's Annual Report and Survey of Biopharmaceutical Manufacturing Capacity and Production say "facility constraints" are the #1 factor in limited manufacturing capacity.
And these challenges aren't going away any time soon. Biopharmaceuticals generate global revenues of $163 billion, making up about 20 percent of the pharma market, and it's the fastest growing segment of the pharmaceutical industry.
According to a report from McKinsey, biopharmaceuticals, including cell and gene therapies that can treat cancer, could become the mainspring of the pharmaceutical industry, but not without significant transformation in the laboratory and operations.
That's why GE Healthcare and G-CON are collaborating to combine a fully functional FlexFactory production line with a G-CON POD cleanroom. This new solution provides drug developers with a combined, flexible and readily deployable manufacturing platform suitable for early-stage clinical or commercial production.
This ultimately allows manufacturers to scale up production of cell therapies and viral vectors to potentially treat some of the most challenging diseases and reach the people who need them the most – patients.
The collaboration will also include cleanroom technology required for the manufacture of lentivirus (LV) and adeno-associated virus (AAV) vectors, a delivery vehicle for emerging gene therapy treatments. The gene therapy field is developing fast and while only a small number of treatments are approved for use, more than 200 clinical trials are underway.
"The cell therapy industry requires a paradigm shift in manufacturing, because of the highly individual and complex nature of the production process," said Maik Jornitz, President and CEO of G-CON Manufacturing. "This partnership will provide manufacturers with turnkey processing capacities with speed and reliability, removing manufacturing bottlenecks that currently delay production of this critical new class of therapies."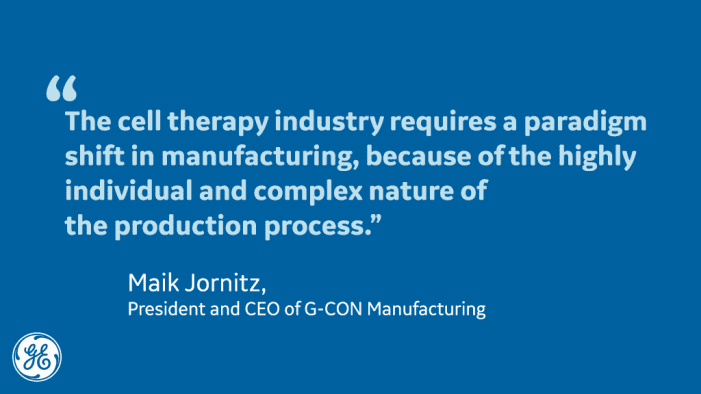 FlexFactory is a cGMP-compliant manufacturing platform comprised of technologies that can be installed into new or existing facilities.
Cleanroom technology is used by the pharmaceutical and biotech industries to avoid adverse effects caused by the air pollutants and small particles in the manufacturing process of a product. G-CON POD cleanrooms create a controlled environment with low level of pollutants such as air-born microbes and particles, dust, aerosols that can contaminate the surrounding area. They keep sensitive, life-saving biopharmaceutical materials free from environmental contamination. PODs can be used in many applications including monoclonal antibodies, vaccine or recombinant proteins, personalized medicines, cell and gene therapy, and even laboratory use.
"The combination of the G-CON infrastructure along with GE Healthcare's cell therapy and vector platform, will aid in reducing the time to market for cell therapies that need vector manufacturing to be on-site and connected to the overall therapy workflow," said Catarina Flyborg, General Manager, Cell and Gene Therapy, GE Healthcare. "It has been designed with early-stage manufacturing processes in mind, which is the much-needed stepping stone for validating large-scale manufacturing and investment decisions in the future."