Canadian hospital is latest to unveil new air traffic control center that's expected to improve its efficiency by 40%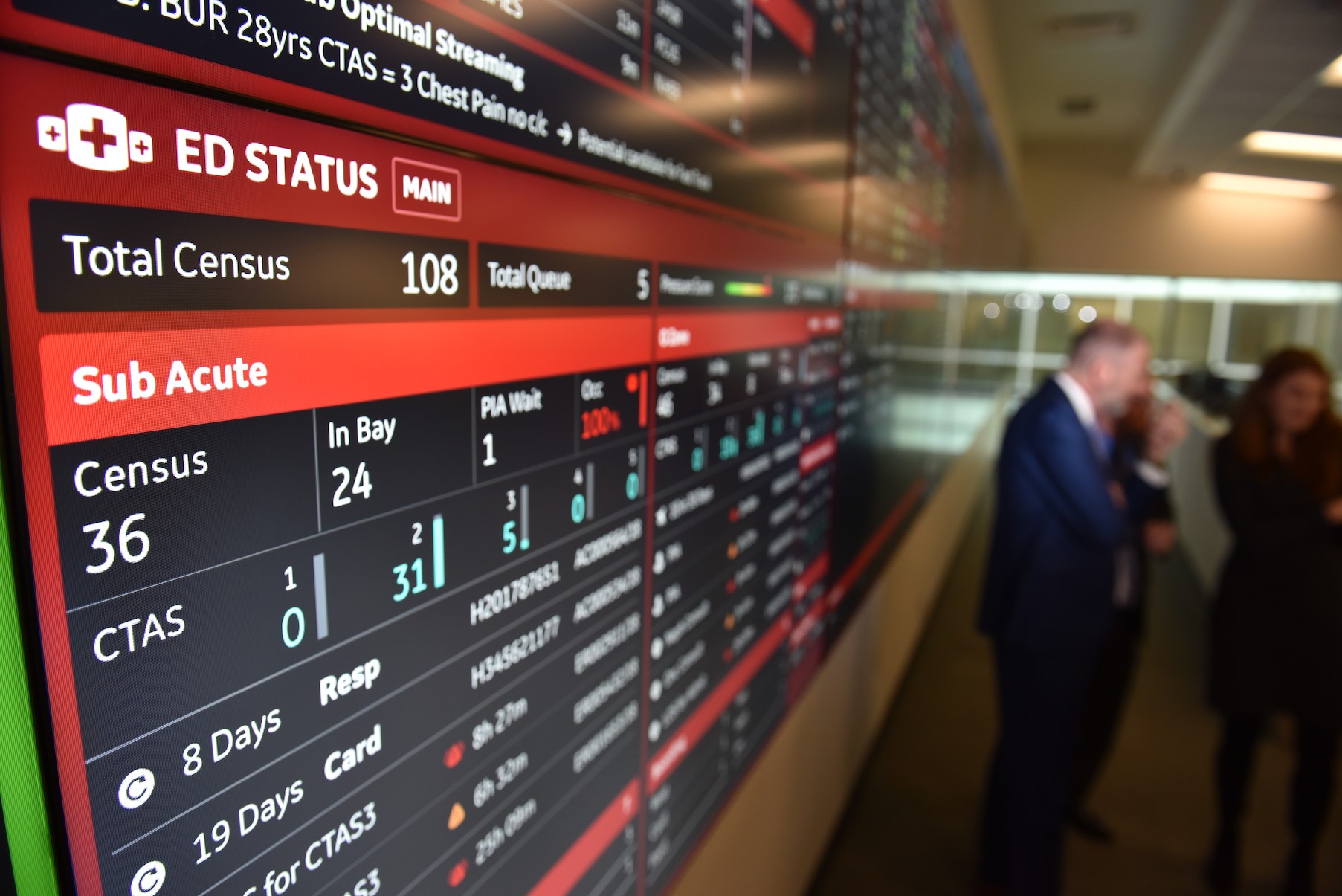 In the 1960s, airports started using new air traffic control technology that allowed them to swiftly transition from scheduling a few hundred flights a day to managing thousands. Now many airports handle millions of passengers every day. Despite the vast complexity of such a logistical challenge, the airline industry also became significantly safer and more efficient in the process.
This "air traffic control" concept soon spread to other industries: Online retailers use data and technology to predict when customers need their next batch of vitamins. Brick-and-mortar businesses and restaurants use it to track busy times and appropriately staff those periods.
In an industry as complex and far-reaching as healthcare, why haven't hospitals followed suit?
Last month, Humber River Hospital (HRH) in Toronto, Ontario became one of the first hospitals to lead the way in a growing trend to do so, opening Canada's first digital Command Center in collaboration with GE Healthcare Partners. The NASA-style center was designed to serve as a central mission control across the hospital's functions and services and address the capacity, safety, quality and wait-time issues that have plagued healthcare.
"Our goal is to use cutting-edge technology, insight-rich data and human expertise together," says Barbara Collins, President and CEO of HRH. "The impact of the Command Centre will be felt immediately by patients, physicians and care providers."
Sitting within HRH's fully digital hospital complex, the new 4,500 square-foot Command Centre uses complex algorithms, predictive analytics and cutting-edge engineering developed by GE Healthcare Partners exclusively for HRH to achieve two feats its supporters say are not mutually exclusive: improve quality of care and patient access while at the same time reducing costs.
One of its the secrets to the Command Center's internal workings is what GE Healthcare calls a Wall of Analytics™, a literal wall visible to all who step inside the center that processes real-time data from multiple source systems across the hospital and triggers cross-functional staff co-located in the Command Center to take action.
"The Command Center helps us rethink how we run the hospital," says Collins. "For instance, we run daily bed meetings, sometimes several in a day. Staff throughout the hospital would gather information, and convene to share that information and input it into a tool. By the time they arrived at the bed meeting, the information was outdated. The Command Center replaces that by pulling information together in real-time and presenting it in a way that is useful."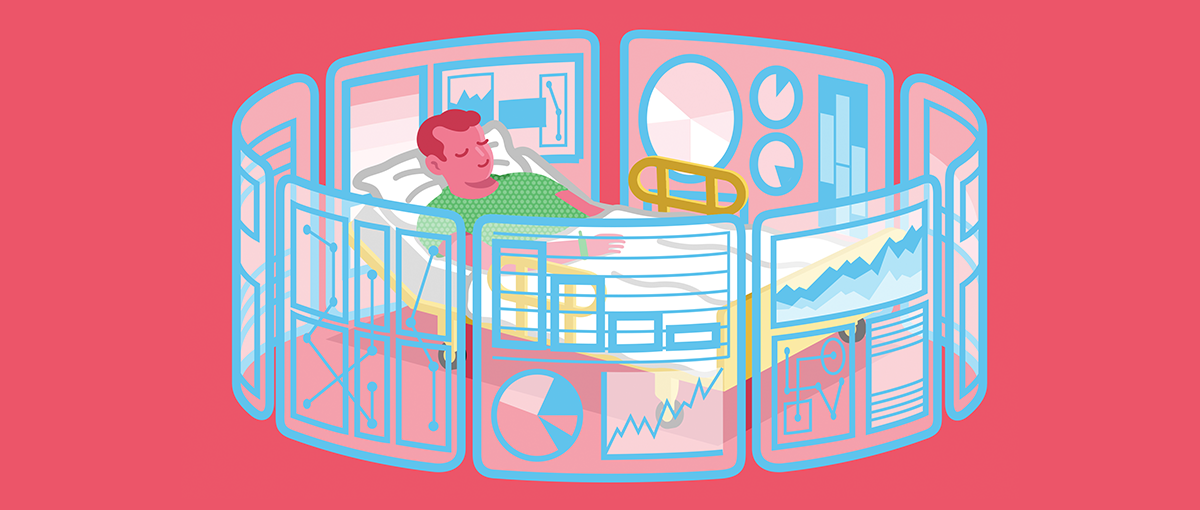 For patients, command centers promise to bring a welcome improvement of less wait time and improved care.
As a result, the hospital's teams are now working together to synchronize care delivery activities (such as patient discharge), eliminate delays in care and resolve patient flow bottlenecks (such as transferring patients from emergency to an inpatient bed) as soon as they are detected in the Command Centre.
With the addition of HRH's Command Centre, Collins says the hospital expects to double benefit and efficiency to 40%.
For patients, it promises to bring a welcome improvement of less wait time and improved care. For clinicians, it can mean more time freed up to focus on those patients.
"This isn't about telling doctors how to be doctors, but rather it's about helping and supporting them in doing their work, removing roadblocks and barriers," says Dr. Susan Tory, Humber Command Centre Medical Director.
Indeed, industry experts say that this type of digitization is not only inevitable but is only the beginning. Deloitte's recent Center for Health Solutions report cites centralized digital centers to enable decision making as one of the major changes the hospital of the future will need to implement in order to function in a world of evolving technologies, demographic shifts and economic changes. In 2018, GE Healthcare Partners expects to sign approximately 20 more NASA-style command centers globally and that, by 2020, command centers will transition to a critical feature hospitals can't survive without.
HRH began its digital transformation back in 2005 when planning started for the new site of the Humber River hospital, which opened October 2015.
The hospital anticipates that the Command Center will now enable the hospital to deliver care to more patients with the same number of beds its operates today, and avoid a projected shortfall of 40 or 50 medicine beds by the year 2021.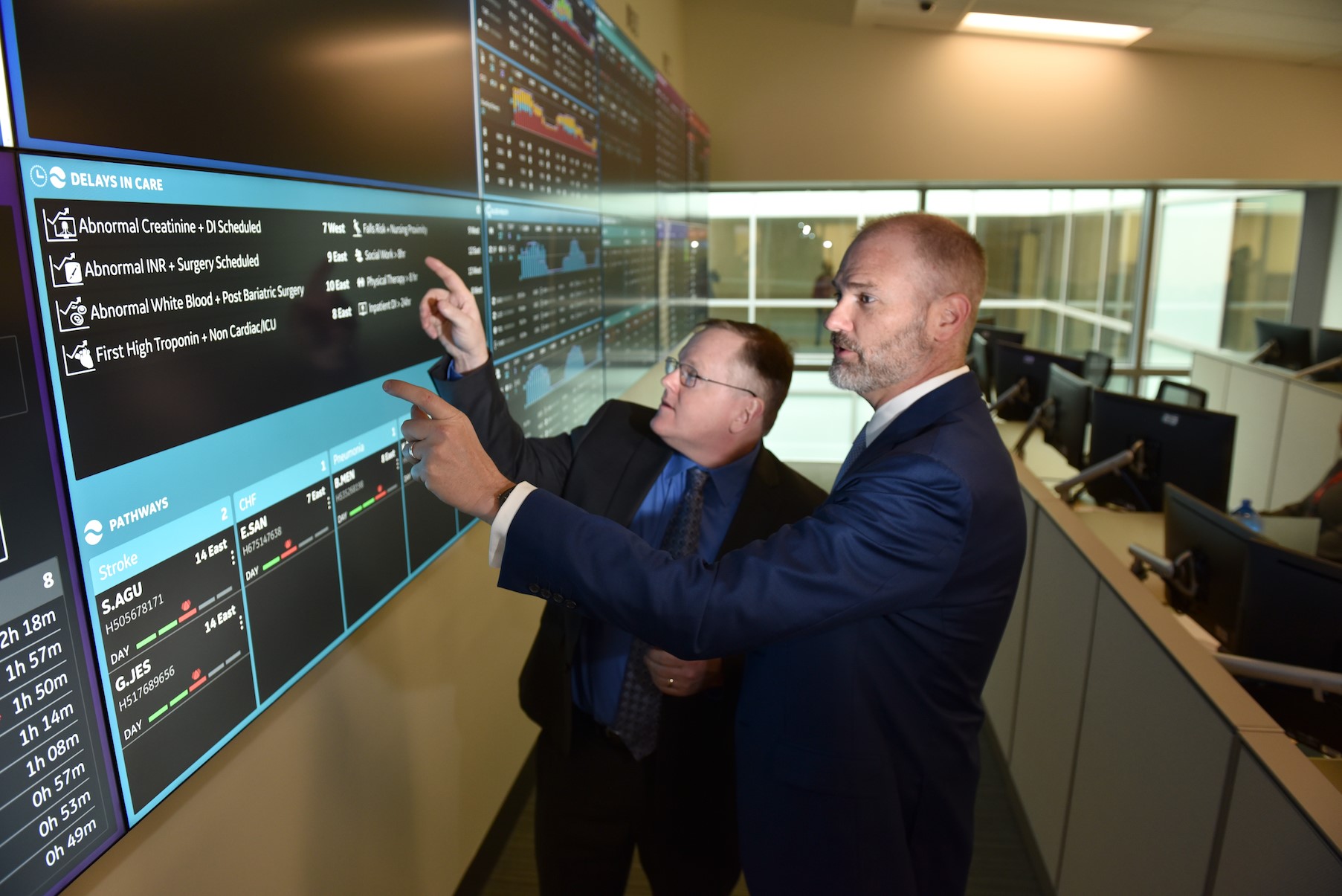 Jeff Terry and Andy Day of GE Healthcare Partners lead the command center launch alongside Humber River Hospital.
Adding a digital Command Centre was a natural fit for HRH, not only because it's recognized as North America's first fully digital hospital, but also because the busy facility must serve a region representing more than 850,000 people.
Peter Bak, the hospital's Chief Information Officer says HRH needed to meet the challenges of caring for such a large population. "We're at full capacity and we're only going to see more and more patients through our front door. How are we going to deal with that?" he says. "We can't just say, Sorry, you're going to wait longer. That's not acceptable."
The alerts and actions that come to life daily in HRH's Command Centre are also intended to provide the basis for analysis and process re-engineering by staff throughout the hospital so that certain issues can be avoided altogether.
"We need to drive hospitals to a point where they don't make errors," adds Bak. "The Command Centre acts as a second set of eyes and allows us to reduce the potential for mistakes."
By integrating systems and applying analytics a small team can observe the "outliers" and intervene ensuring that delays will not go unidentified, resources will not go under-utilized and patient care actions are taken accordingly.
Much like an airport in the 1960s, HRH is implementing technology that will support it through the next era of healthcare innovation. Collins is confident the Command Centre positions HRH for the future. "For the first time in 40 years, we have a tangible way to sustain change."