The term "sonographer's shoulder" was coined in a 1985 study.[i] More than a decade later, another study showed that most sonographers (84%) experienced musculoskeletal pain related to scanning, with neck, shoulder, wrist, hands or fingers, and back listed as the most commonly affected areas.[ii] It turns out that diagnostic medical sonographers are at high risk for work-related musculoskeletal disorders (WRMSDs).
WRMSDs are different than acute workplace injuries like slips, trips, and falls, and generally develop over time due to repeated exposure to risk factors. They may be painful while at work or at rest, according to Susan Murphey, BS, RDMS, RDCS, CECD, a sonographer and Certified Ergonomic Compliance Director with experience in work injury prevention and system improvement.
There are several reasons for the ongoing risk for developing WRMSDs for sonographers.ii According to Murphey, these primarily include the following:
Force: This can mean downward pressure applied with the transducer to obtain an image as well as the grip force used to hold the transducer.
Repetition: Performing the same tasks frequently without sufficient time to rest.
Awkward Postures: Awkward postures such as flexion or extension of the wrists, shoulders, necks, and other joints can contribute to risk for injury. These awkward body positions for sonographers are often a result of the inability to adjust the equipment.
Contact pressure: This can include resting hips or forearms against an exam table while scanning.
WRMSDs impact both sonographers and employers. It is estimated that they cost as much as $20 billion in direct costs, such as Worker's Compensation and medical expenses, and up to $100 billion in indirect costs like lost revenue, absenteeism, and costs related to hiring and training new employees.ii There is also a personal toll for the impacted employee, who may no longer be able to work or perform simple tasks as part of daily life.
Ehab Eassa, 55, is now in what he calls the twilight of the physical part of his 33-year career as a cardiac sonographer. For the past six years, he's been teaching in addition to his scanning duties – so he can take some of the physical burden off his body, and because he enjoys sharing his knowledge with the next generation of sonographers.
"Downside of this [sonographer] job is the physicality," he said. "The older I get, the easier I get fatigued and the more pains I have, basically from head to toe."
Ehab recently had surgery on his ulnar nerve to correct ongoing pain in his arm and shoulder. He also attributes his ongoing lower neck pain and upper back pain to bad positioning from the equipment. He likens his duties to staring toward his belly button for hours a day, for years at a time, and says the job has taken its toll on his body.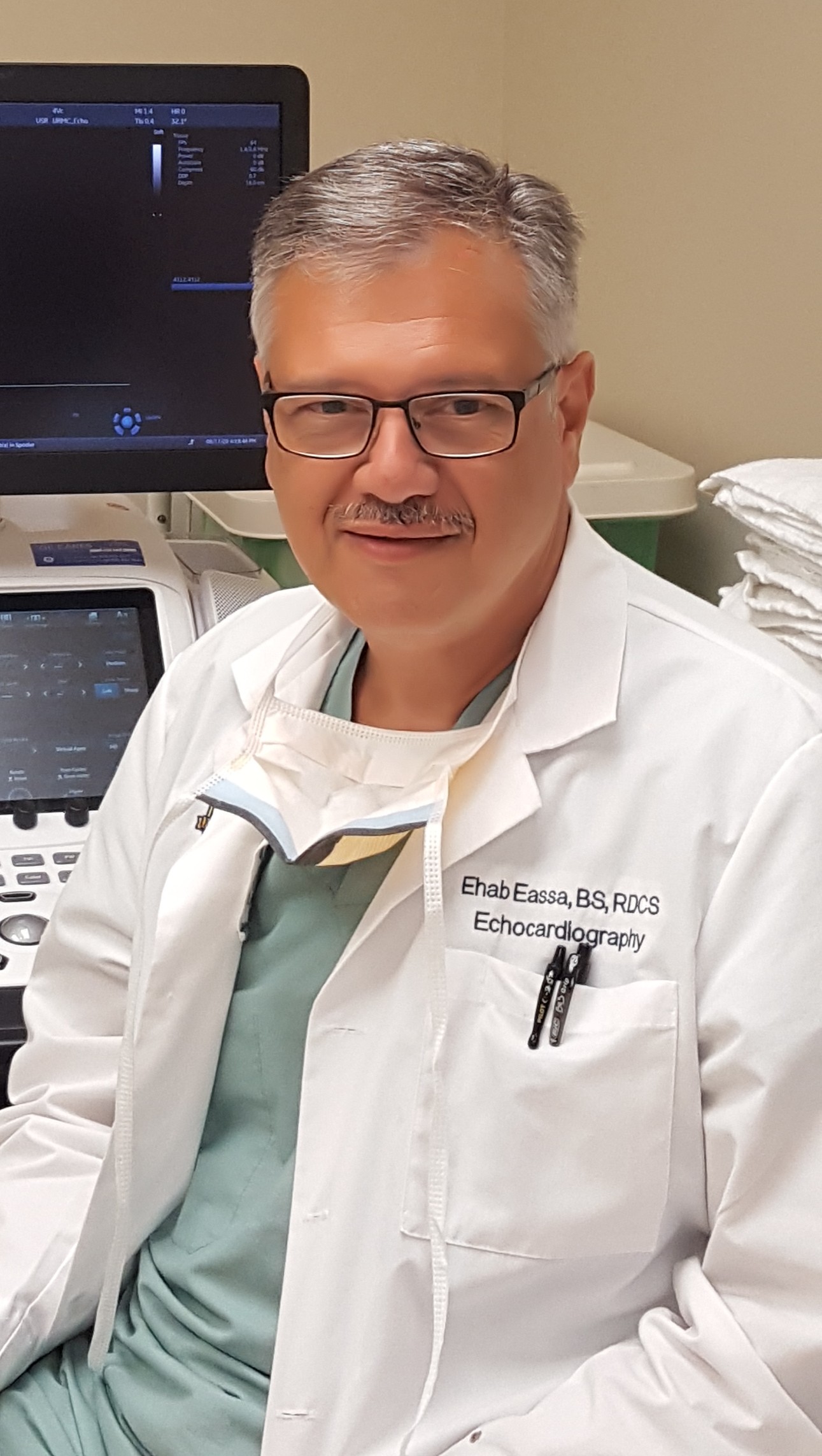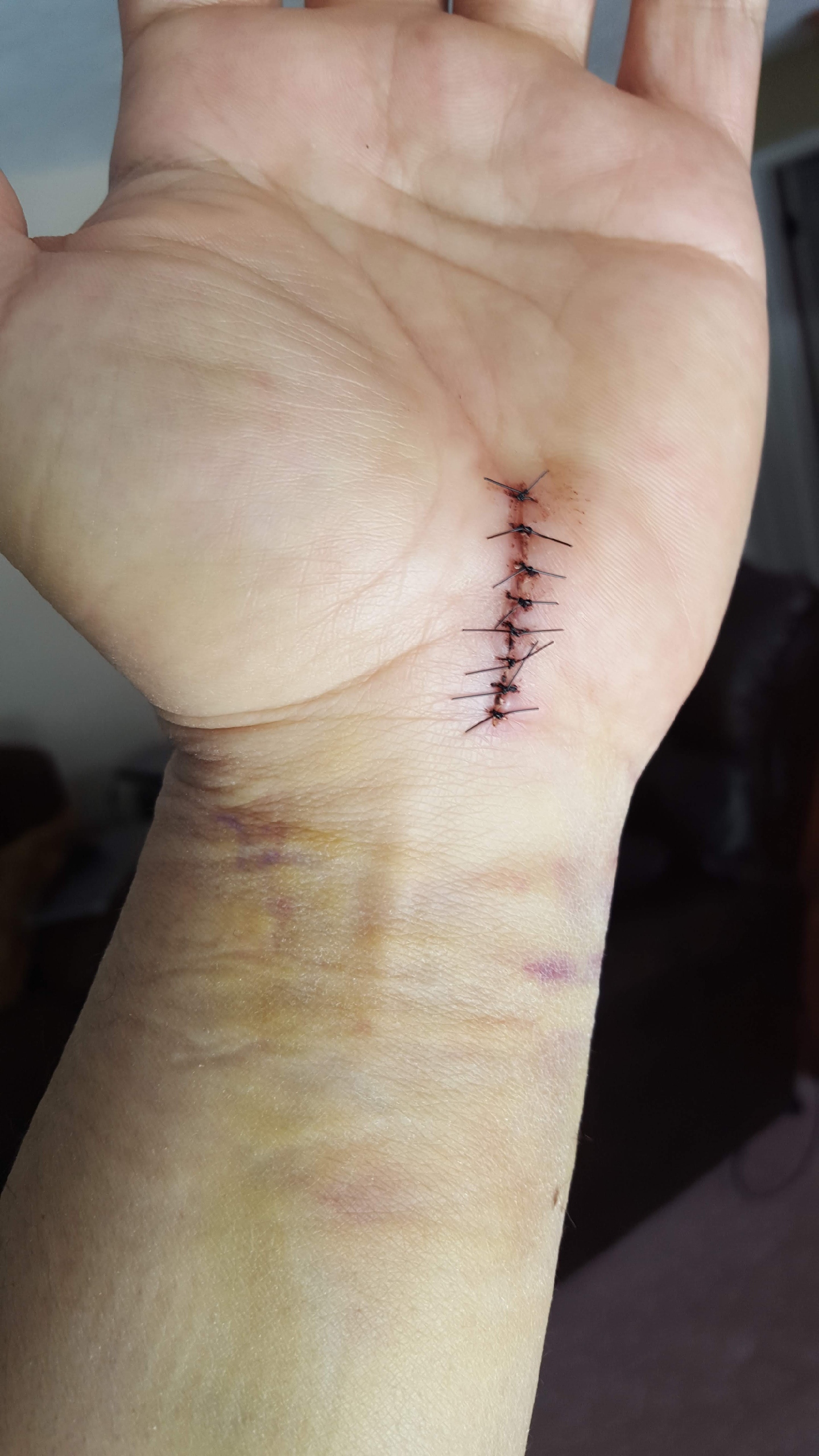 Ehab Eassa had surgery on his ulnar nerve to correct pain in his arm and shoulder.
Solving for Sonographer Pain
In 2003, The Industry Standards for the Prevention of Work-Related Musculoskeletal Disorders in Sonography brought increased awareness to the problem facing sonographers. However, a 2009 study found that 90% of clinical sonographers continued to experience symptoms of WRMSDs.ii Updated in 2016, the Industry Standards now provide a robust resource for ergonomic improvements for sonographers' workstation equipment and workflow.
In an effort to mitigate WRMSDs for sonographers, medical device manufacturers continue to innovate. One example is Vivid iq Ultra Edition, a new ergonomically-designed cardiovascular ultrasound system. James Luther, Design Director of Frog Design in Milan, and his team worked with GE Healthcare to develop the new user experience credited with innovations designed to alleviate user ergonomic strain.
They were inspired by the contextual observations of cardiac sonographers and GE Healthcare's clinical team and noticed they had to "hover" often with no support. Now, there is a "bridge" that allows users to rest their hands and hover above the trackpad, enabling them to press the Hold & Go touch control without moving their hand or arm.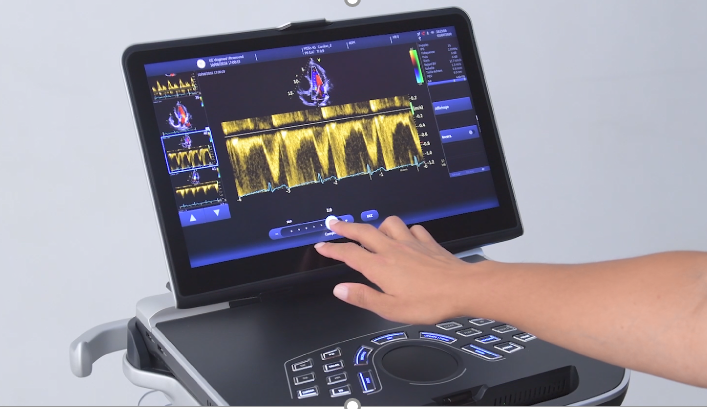 Hold & Go feature on Vivid iq
"Our goal in this project was not only solve the ergonomic challenges of the touchscreen, but also improve the overall user experience," James said. "The pros of touchscreen design are numerous, such as fast and easy cleaning and disinfection, intuitiveness, flexibility and customization. However, touchscreens typically don't offer one advantage of traditional buttons, knobs, and trackball systems, which is that experienced sonographers can move their fingers and hands almost 'blindly,' keeping their eyes on the image. With the Hold & Go touchscreen functionality, this advantage is possible with less movement from function to function. The Vivid iq Ultra Edition 2-finger trackpad gestures to adjust depth and gain allow users to optimize image quality without taking their eyes off the image."
Artificial Intelligence (AI) is another emerging solution for reducing time-consuming repetitive tasks and multiple button clicks during echocardiograms, such as adjusting parameters and repeating tests to obtain measurements. To reduce the need to select the measurement, GE Healthcare's Vivid Ultra Edition release uses an AI algorithm trained to semi-automatically detect the appropriate Doppler measurements.[iii] A different AI algorithm helps reduce clicks up to 80 percent for some 2D measurements.[iv]
Susan applauds these efforts to help alleviate ergonomic strain for users. The Vivid iq Ultra Edition trackpad functionality can help sonographers reduce effort, repetition and reach. The new AI features have been shown to reduce keystrokes. "These types of helpful enhancements focused on sonographers' health and well-being are welcome innovations to address this issue," she said.
As for sonographers, Ehab has some of his own advice: "I would advise young sonographers to take care of their bodies early," Ehab said. "Don't take your body for granted in your 20s and 30s. Be careful of your positioning. Try not to put yourself in awkward situations and do your best to keep your body right and stay healthy."
---