In celebration of International Women's Day on March 8, 2021, GE Healthcare is proud to celebrate the achievements of all women and accept the challenge to raise awareness against bias and take action for equality. At GE Healthcare, women are behind some of the most innovative technology designed for women's health imaging, smart technologies, and cancer diagnostics. They are pushing women's health and healthcare beyond today's boundaries. Whether it's designing the first woman-friendly mammography unit, creating a suite of breast cancer products from ultrasounds, MRIs, radiotherapy equipment and pharmaceutical diagnostic equipment, women at GE Healthcare are innovative and passionate about providing solutions and designing tools needed today as well as innovations that will be needed in the future.
To celebrate International Women's Day, 2021, GE Healthcare has launched a 24-hour virtual event in observance of this day. One of the highlights of the day includes discussion with Stefania Lovisatti, EMEA Inclusion and Diversity Leader at GE Healthcare, who brought together an impressive panel of extraordinary women including global researchers and scientists that came together to discuss current trends and challenges facing healthcare innovation. They discussed how their work not only advocates for women's healthcare needs, but to design custom, innovative solutions, and develop the future of healthcare for women and all healthcare consumers.
Advancing breast cancer screening and diagnosis
Developments in mammography technology have changed the way radiologists and oncologists work as well as the lives of the women who have experienced this essential technology. Advancements in mammography imaging technology are already positively impacting the health of women of all ages in real ways that improve care delivery and outcomes; they include an increased and improved ability to detect breast cancer at the earliest possible moments in its development, confirmation of the benefits of 3D imaging for early breast cancer detection, and the ability of artificial intelligence (AI) to accurately and reliably classify breast tissue density without the inherent human variabilities.
Cynthia Davis, PhD, Principal Scientist in Radiation Physics at GE Research, has worked on several of these innovations over her 25 years with the company.
"I joined [GE Research] right after I completed my PhD in nuclear physics," Dr. Davis explained. "Since then, I've worked on a variety of imaging projects to improve breast cancer imaging, including some of our first prototypes, such as the full-field digital mammography systems, tomosynthesis, automated breast ultrasound, and right now I'm working to develop a breast CT system that's suitable for screening."
Fiona Ginty, PhD and Biosciences Technology Manager has been working with Davis for the past 15 years managing the talented people who develop new products for GE Healthcare in all states of diagnostics.
"I've been working in the field of breast cancer research for at least the last ten years," Dr. Ginty added. We've been studying the effects of how breast cancer cells change over time, and we've been on the cutting edge of that technology."
Understanding the need for novel solutions
"I find out what the world needs. Then I go ahead and try to invent it." Thomas Edison.
This famous quote and a picture of Thomas Edison hangs at the entry of GE Research, inspiring the teams who work there. Though the majority of patent applications for novel inventions and innovations has historically been male, The World Intellectual Property Organization reported that, though progress is slow, women are gaining ground and represent 18.7 percent of international patent applications, up from 9.5 percent in 1995[i]. GE Research and GE Healthcare, however, have a long history of supporting women innovators who are working with hospitals and opinion leaders in the US and around the world to understand the challenges they face, understand where the gaps are and where they may be in the future. GE Healthcare's teams of women innovators, researchers, scientists and product development have developed many new products and solutions to meet those needs and continue to pursue innovations in healthcare for the future.
"We have many different scientific and engineering disciplines represented at the GE Research Center," explained Dr. Ginty, "and that's [working with the customer] probably one of the most exciting phases of the work we do. It's that sort of initial point where we come together and try and tease out exactly what the customer needs. It's a process and we figure it out with them, and then we'd slowly work towards a prototype. And we have partners we've worked with now for ten and 15 years, who we continue to go back to and seek their advice and opinions and feedback on what we do."
Vishakha Patel, Data Science and Analytics Consultant at GE Healthcare, based in Germany, added that when she began working on GE Healthcare innovations, the customer connection was the most important first step.
"One of my daily challenges," explained Patel, "is trying to map the customer problem into something tangible that you can build that will help them in their day-to-day workflows. This is the first challenge, but when you talk with them, understand them and observe them, that's when you understand what you can actually build that could create value."
Laurence Vancamberg, PhD, Robotics and Computer Vision Architect in the GE Healthcare Women's Health segment is an advanced application engineer and has been working in the Clinical and Applied Research Team. Working on building the vision of a future product for mammography and bone and metabolic health, she is developing a strategic prototype with GE Healthcare's partners, focusing on patient experience and customer workflow, where she is spending a lot of time observing.
"It's so important to observe what customers are doing," Dr. Vancamberg explained. "We learn so much by observing. We learn about the clinical procedures, but we also learn about how they use what we are building and designing. And it's really important to understand what is going on during the exam. When we see the patient that is scared during the biopsy exam, we want to do something; we want to innovate. It motivates us to see the challenge and to help them reduce the exam time, to improve workflow, and ultimately, to help patients."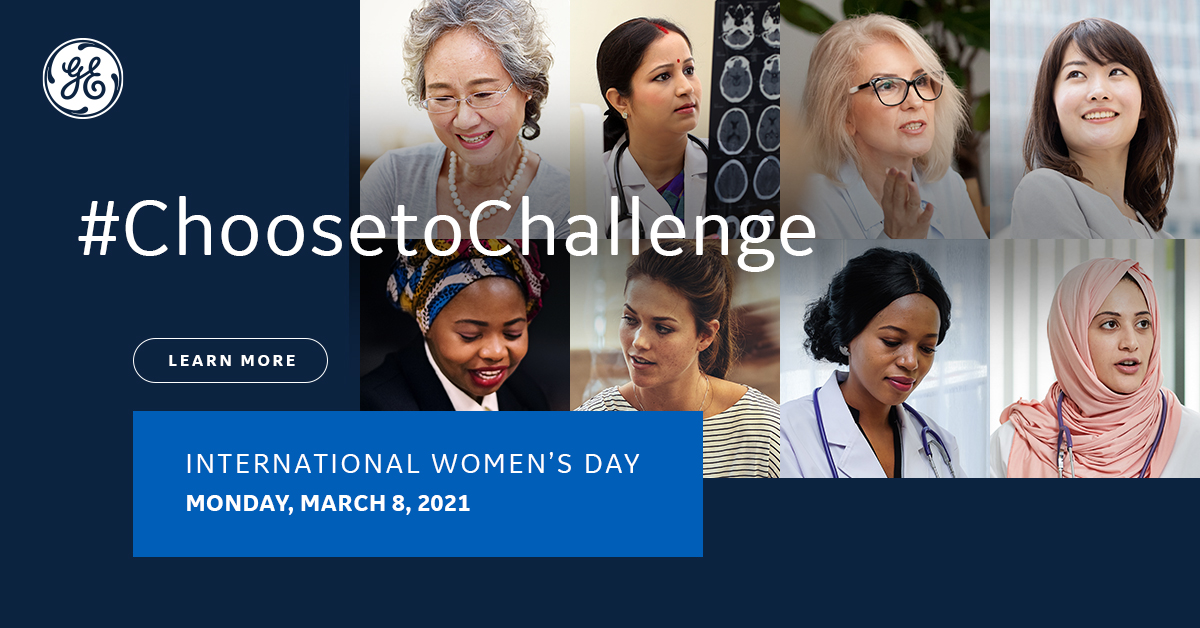 Innovation in the digital age of healthcare
Digital innovation in healthcare is the positive impact of technology in healthcare, and there are many brilliant women at the forefront of digital innovation at GE Healthcare. AI-enabled medical devices and electronic health records are examples of innovations which are completely reshaping how data is shared among providers and how decisions are made about patient treatment plans and health outcomes. Data scientists like Patel are working to create interoperability between various health systems and ensure privacy, security as well as data integrity in any new digital and AI-based solutions.
"We are living in a data-driven world," explained Patel. "The way we handle data, specifically clinical data, is changing on all fronts with all of the new technology that is being introduced. A big challenge on every project is how do we bring all the data together from disparate systems and consolidate that?"
Patel is currently working on new concept called Cancer Cockpit, being developed for the patient's oncology pathway. Throughout the patient's journey, they will have multiple diagnostic exams, pathology reports, and lab work.
"All of these reports and images reside in different systems," Patel explained. "We need a solution to gather this data and eliminate variation, and then we can apply more advanced machine learning and AI techniques."
"AI is offering us so many opportunities," Dr. Vancamberg added. "In my work on optimizing workflows, AI can help us make smarter machines, smarter scanners, make everything very transparent for the user, so that every single step is added value for the patient. It enables the clinician to shift his focus from the machine to the patient. AI can help us do that."
Propelling cancer diagnostics and personalized treatment through innovation
In recent years, innovations in precision medicine have rapidly altered the oncology diagnostic and treatment spectrum[ii]. Women like Melissa Desnoyers, Global Research Manager for Molecular Imaging and Computed Tomography and Elaine Long, PhD and Scientific Leader for Immuno-oncology at GE Healthcare have first-hand knowledge of some of the developments that have resulted in these advances in diagnostics and care.
"During my time working in clinical research" explained Dr. Long, "our knowledge about the role of the immune system in many areas of disease has evolved, above all cancer. Understanding how the immune system can be mobilised to treat cancer has revolutionised the approach to treating this disease. In the R&D team we are developing immuno-diagnostics to provide the right tools for our pharmaceutical and clinical customers in this exciting area of medicine."
Desnoyers commented that being a part of these teams that are truly taking healthcare to the next level is extremely motivating.
"Contributing to developments in personalized care, the ability to really customize what we are doing, and bring solutions forward that make a difference for the individual, as well as advances for the population, those are our priorities," said Desnoyers. "There are a lot of solutions that we have out there, but to be able to optimize them and bring them in earlier in the point of care to make decisions faster and customize and direct therapeutic decision-making, I think that's really what keeps a lot of us going—it's seeing how far we've come, but also how much more potential there is to continue to improve and customize the solutions that we can bring forward."
Join us in celebration of women around the world by visiting International Women's Day - #ChoosetoChallenge (gehealthcare.com).

Highlights:

Keynote presentations from acclaimed film director, Anastasia Mikova of documentary film, "WOMAN"
Roundtable discussion with leaders from Intel, National Consortium of Intelligent Medical Imaging (NCIMI), Genentech-Roche, and GE Healthcare
Scientific discussion with leading GE researchers and scientists
We will address the following global challenges:

Don't Skip
Because She Needs to Know
Empowering Moms
Patient Experience / Education
Beyond Imaging
Rapid Diagnosis
Personalized Breast Care
Seeing is Believing

Presentations, discussions, debates, exchanges, downloadable materials and more
Visit our partners lounge with iCAD, Intel, NCIMI, Roche, Susan G. Komen, Tricefy and Department of Creative

ACCEPT THE CHALLENGE. VIEW THE AGENDA HERE.
---
[i] https://www.wipo.int/about-wipo/en/dg_gurry/news/2020/news_0016.html
[ii] Dzau VJ, McClellan MB, McGinnis JM, Finkelman EM, eds. Vital Directions for Health & Health Care: An Initiative of the National Academy of Medicine. Washington, DC: National Academy of Science; 2017. nam.edu/wp-content/uploads/2018/02/Vital-Directions-for-Health-and-Health-Care-Final-Publication-022718.pdf.