"Never underestimate the strength and resiliency of babies."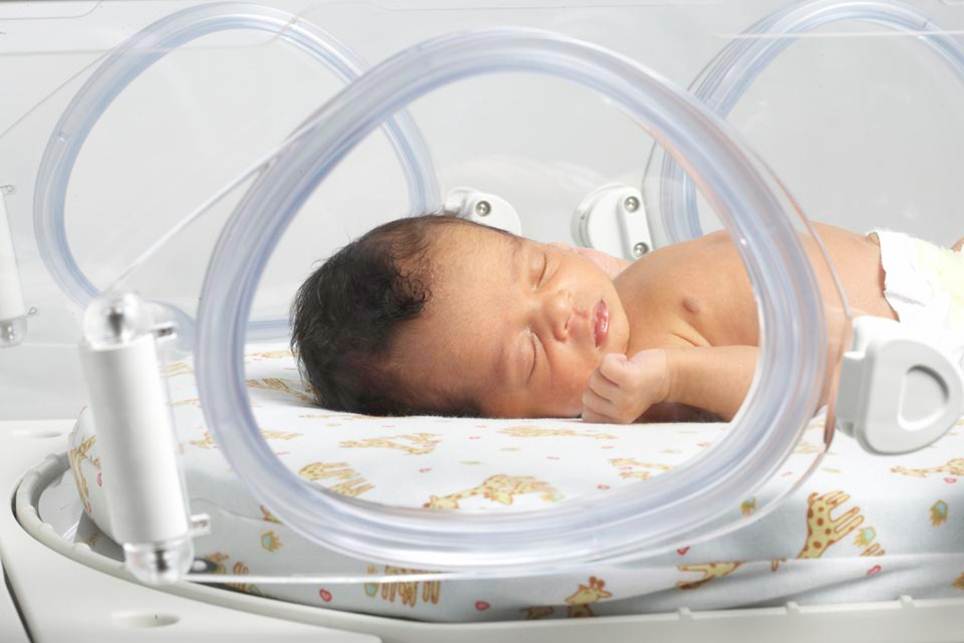 Every year 15 million babies around the world are born preterm, before 37 weeks of gestation. Premature birth is the leading cause of infant death in the U.S. and even if a woman does 'everything right' during pregnancy, there's still a risk.[1]
However, technological advancements and growing expertise about prematurity are increasing preterm babies' chances of survival. Over the last 10 years, the smallest baby saved has improved from 550 to 350 grams, and the youngest baby saved has improved from 26 to 22 weeks.[2]
The Pulse asked Neonatal Intensive Care Unit (NICU) Nurses for notes that they would share with parents who are currently in the NICU. Here are their words of wisdom and encouragement.
1. "Don't ever be afraid to ask questions. There is no such thing as a stupid question. You know your baby the best."
Cheryl Cavallaro, NICU Nurse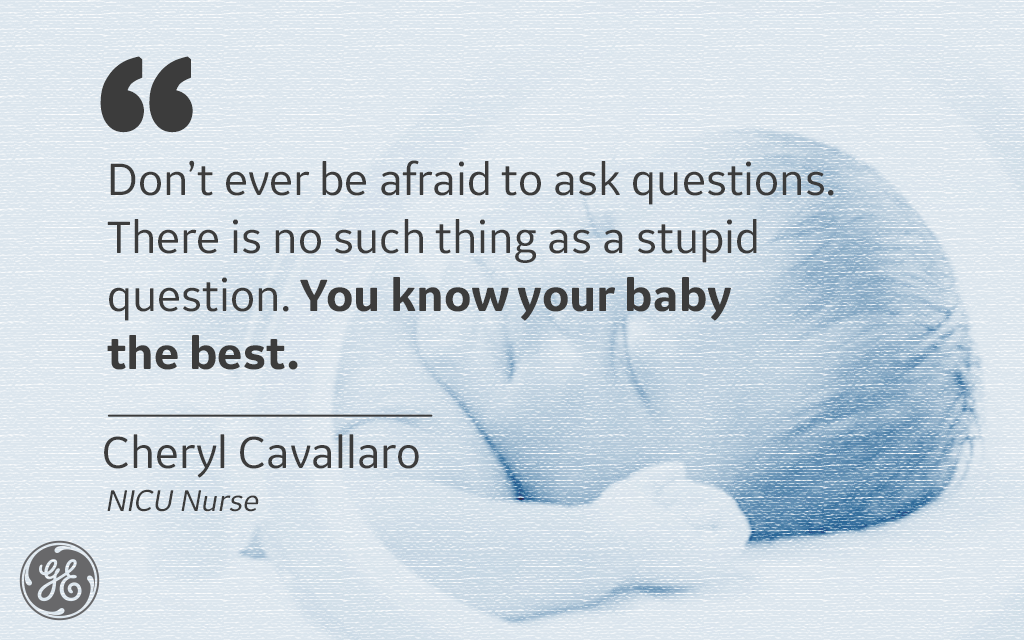 2. "It's important to include the extended family members for the health of your baby and extended family. Try Facetime or Skyping with family members from the unit. Post updates and photos on social media or through the clinical blog, CaringBridge."
Joyce Abrames, NICU Nurse
3. "Don't try to compare your experience (or your baby's) to anyone else's. Take each new milestone or victory and celebrate it with all you have. Those little victories will get you through. Spend all the time you can with your baby – bond, learn and love. Finally, be kind to yourself, and practice self-care whenever you can. You can do this."
Morgana Jokiel, NICU Nurse
4. "There are good days and bad days. It will feel like a roller coaster, and you'll have to be patient. Ask a lot of questions. If you don't understand something, ask."
Mary Jane Stover, NICU Nurse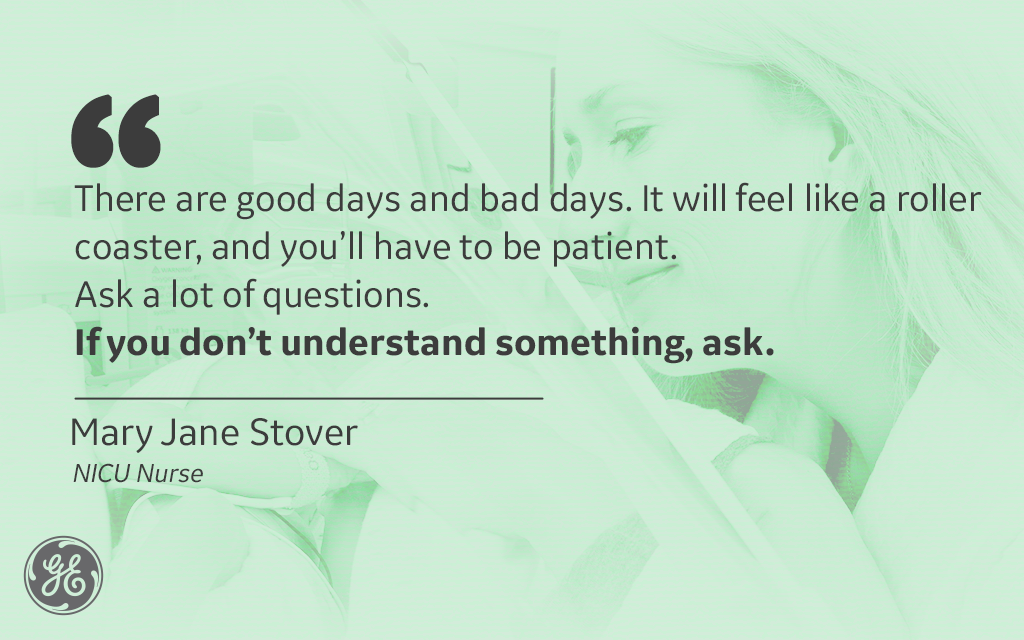 5. "Once you have a premature baby, you enter a world you never knew existed. The surprising result is that you will meet a group of people you will never forget for the rest of your life. We will always be there to get you through. You are not alone."
Rebecca LaClair, NICU Nurse
6. "Remember that your love for your baby (or babies!) is the most important things you can bring 100% of the time, and don't forget its incredible power. Your infant can feel that, even in the smallest touch."
Alissa Ray, Clinical Nurse

7. "You will never be alone on this journey. Your family is surrounded by caring and dedicated professionals who will listen to your concerns, cry with you during difficult times, hold your hand, and make you understand that whatever it takes, we are in this journey together to make sure that your precious one will get the best care ever."
Liberty Abelido, Nurse Manager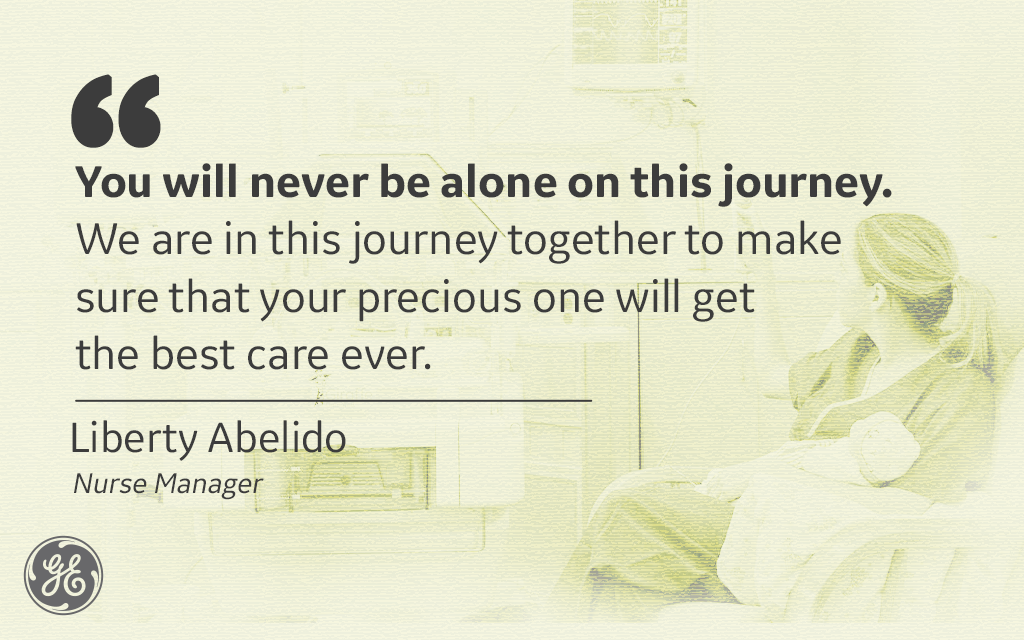 8. "Parents need to take time to care for themselves so that they are better able to provide care for their baby. Talk to your baby. Touch them. They relax and are better able to cope with the environment because they will hear a familiar voice and that provides a sense of security."
Tarisai Zivira, NICU Nurse
9. "Every day may be so different from the next. Keep your eye on the goal–your baby's safety, health, and happiness. Babies are so much smarter, stronger and braver than we can imagine. They let us know when they are ready to go home with you. "
Clara Song, Faculty Neonatologist
10. "Never underestimate the strength and resiliency of babies. Preterm, ill, congenital anomalies or whatever condition brings them into the NICU, they are still sweet babies that ENDURE and give something to their parents and families, no matter how small...HOPE! Take that hope and bring good energy to your baby every time you visit."
Donna Dichirico, Nurse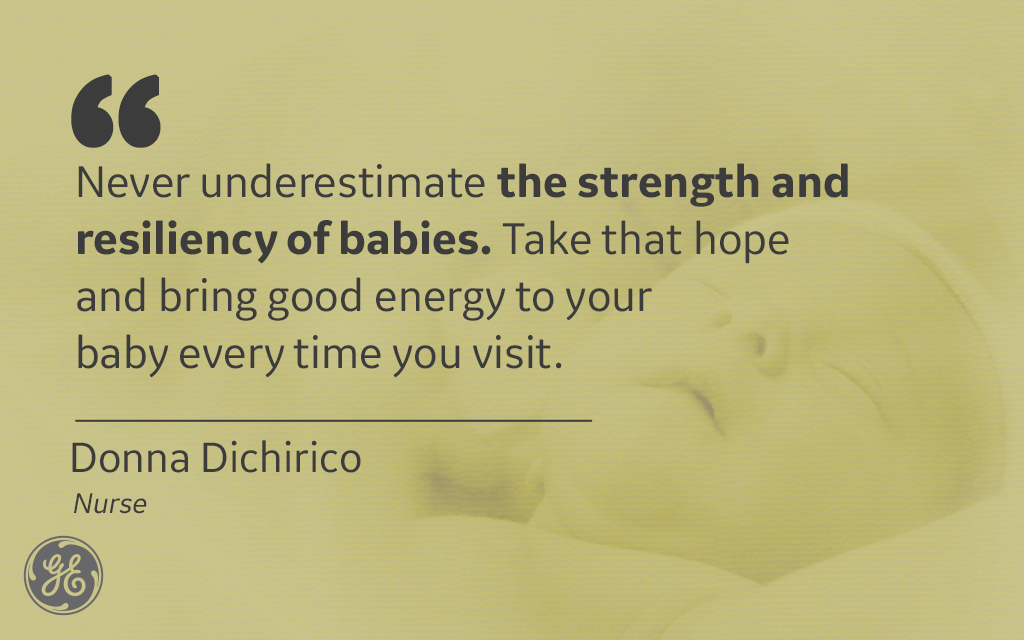 November is Prematurity Awareness Month – a month dedicated to raising awareness about prematurity and recognizing these tiny and resilient babies, around the world.
[1] https://www.verywell.com/premature-birth-facts-and-statistics-2748469
[2] http://www.dailymail.co.uk/health/article-2074459/Third-smallest-baby-born-survive-thriving-born-nearly-months-early-weighing-just-9oz.html